LUZZATTI, LUIGI:
Italian statesman and political economist; born at Venice March 11, 1841; studied at the University of Padua (Doctor of Law 1863) and in Venice. While in the latter city he was strongly influenced by Politeo, professor of philosophy, and by Zanella, the lyric poet and teacher of literature from Vicenza. At the age of twenty Luzzatti had already given lectures on economics in Venice. He was an enthusiastic supporter of the doctrine of free trade. At twenty-two he became a teacher at the Istituto Tecnico in Milan; in 1867, professor of economics in the University of Padua; and in the same year the government appointed him commissioner for the Paris Exposition.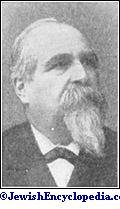 Luigi Luzzatti.
In 1869 he became general secretary under Minghetti in the agricultural department of the ministry. Shortly afterward he entered Parliament as deputy from Oderzo, and later was chosen as the representative of Padua.
Luzzatti has held his seat in Parliament uninterruptedly for more than thirty years. He is one of the leaders of the Right, and has repeatedly been president of the budget committee. In matters relating to economic development he has rendered his country incalculable service. He introduced the ideas of Schultze-Delitzsch into Italy, and made them national. He also labored in behalf of cooperative associations and for the establishment of postal and school savings-banks. He is an authority on all questions connected with the tariff, and has a firm grasp of the subject of commercial treaties.
Luzzatti is a tireless worker, speaker, and writer. At all times he upholds Italy's friendship with France. He has frequently been entrusted by successive Italian governments with delicate international negotiations. As one of the delegates who arranged (1902) the commercial treaty with France, he received the grand cross of the Legion of Honor. When in 1901 King Victor Emmanuel III. established the Order of Labor, Luzzatti, in recognition of his labors in behalf of the working classes, was the first to receive the new decoration. He fights against the Agrarians, who have now become so powerful in Germany; and he endeavors to make propaganda in favor of commercial treaties to prevent "Middle-Age economics" from invading Europe.
From Feb., 1891, to May, 1892, and from July, 1896, to June, 1898, Luzzatti was minister of the treasury in Rudini's cabinet. He then returned to his chair of economics at the University of Rome. At present (1904) he is minister of the treasury in the cabinet of Giolitti.
His works include the following: "Il Socialismo e le Questioni Sociali Innanzi ai Parlamenti d'Europa," 1883; "Schultze-Delitzsch," 1883; "Emulazione e Progressi delle Banche d'Emissione in Italia," 1886; "L'Abuso del Credito e la Finanza Italiana," 1889; "La Pace Sociale all' Esposizione di Parigi," 1890.
Bibliography:
Telesforo Sarti, Il Parlamento Subalpino e Nazionale, Terni, 1890;
De Gubernatis, Diz. Biog.;
Leone Carpi, Il Risorgimento Italiano, Biografie Storico-Politiche, vol. i., Milan, 1888;
Luigi Branzi, I Moribondi di Montecitorio, Turin, 1889;
Nuova Enciclopedia Italiana, 1895, Supplement, iv. 201;
Jew. Chron. Nov. 6, 1903.
S.
S.
Mun.