MAPU, ABRAHAM:
Russian Hebrew novelist; born near Kovno Jan. 10, 1808; died at Königsberg Oct. 9, 1867. Mapu introduced the novel into Hebrew literature. His early education in Bible and Talmud was received at the ḥeder, on leaving which, at the age of twelve, he continued the study of the Talmud in private, and was so successful that he soon acquired the name of "'Illui" (Friedberg, "Zikronot," in "Hausfreund," i. 22). Moved thereto by his own poetical and impulsive disposition and influenced by his father, Jekuthiel, himself a mystic and cabalist, Mapu took up, at the age of fifteen, the study of Cabala. According to an anecdote related of him, he attempted to give his studies practical effect by endeavoring to render himself invisible. Though he carefully followed cabalistic prescriptions he was cruelly disillusioned by being addressed by a friend at the very moment when he thought himself secure from mortal observation (ib.). Mapu later studied Talmud and Cabala with Elijah Kalisher (Ragoler), rabbi at Slobodka (Mapu's birthplace). In Kalisher's house he found a copy of the Psalms with a Latin translation, and this awakened within him a desire to study Latin, which he did from that translation. A better opportunity to study Latin presented itself when he formed the acquaintance of a Catholic priest while teaching in a country school; and he made such good progress in the language that he wrote a book in Latin (ib. i. 24).
MA'OZ ẒUR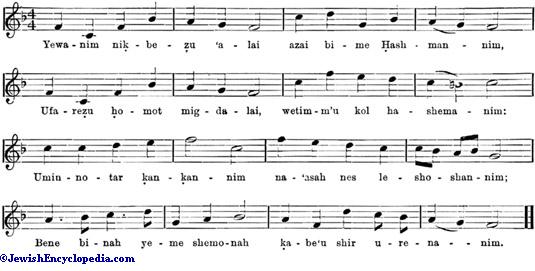 From this time dates Mapu's devotion to secular studies, particularly to languages and literatures, which he pursued henceforth assiduously. In the forties he removed with his family to Rossieny, government of Kovno; there he became acquainted withthe scholar Senior Sachs, who greatly heightened his love for ancient Hebrew history and literature and for the beauties of Biblical diction, of which Mapu made later such good use in his romances (Brainin, "Abraham Mapu," p. 36). A few years later he became teacher in the house of Apatov Parnes at Wilna, and then was appointed teacher of Jewish religion and German at the gymnasium of Kovno. In 1860 his health began to fail; he suffered especially from palsy in his right hand, which made writing difficult for him; in 1867 he went for medical treatment to Königsberg, where he died (ib. i. 67).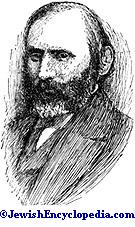 Abraham Mapu.
His "Ahabat Ẓiyyon."
The literary activity of Mapu fell in a period of barrenness for Hebrew literature, as far as fiction was concerned. Here and there a poem of moderate value, or a translation of a French romance, had appeared, but there was not one original novel. His first book, "Ahabat Ẓiyyon," begun in 1831 and published at Wilna in 1853, is a romance of the time of King Hezekiah and Isaiah. In this as well as in his other works, one recognizes the unmistakable influence of the French Romantic school—of Victor Hugo, Dumas (père), and Eugène Sue, particularly of the last-named, whom Mapu always admired (ib. i. 49). Perhaps through their influence Mapu succeeded in giving to his characters genuine naïveté and naturalness, which combined with a highly successful use of Biblical diction to make this work classic. "Ahabat Ẓiyyon" was translated into German as "Tamar" by S. Mandelkern (2d ed., Leipsic, 1897), without mention of Mapu's authorship; into English, under the title "Amnon, Prince and Peasant," by Frank Jaffe (London, 1887), and by Schapiro, under the title "In the Days of Isayah" (New York, 1903); into Yiddish, in Warsaw (1874). His second work, "Ashmat Shomeron" (Wilna, 1865), is likewise a work of powerful imagination. It is a romance of the days of Ahaz, King of Judah, and of Pekah b. Remaliah and Hosea b. Elah, kings of Israel, depicting the wild, orgiastic character of Samaritan society and setting against it the purity and simplicity of Judean society. "'Ayiṭ Ẓabua'" (Wilna, 1857-61) is a novel, in five parts, of modern life, picturing the struggle of the Maskilim against the "painted vulture," or hypocrite—a standing epithet at that time for the ultra-Orthodox.
Mapu wrote also "Ḥozeh Ḥezyonot," a romance, in ten parts, of the times of Shabbethai Ẓebi; but owing to the intervention of the "hypocrites" of his town the manuscript was destroyed while on its way to the minister of public instruction for approval, only a fragment being preserved. His other works are "Ḥanok la-Na'ar" and "Amon Padagug," Hebrew text-books (Wilna, 1859, and Königsberg, 1868), and "Hausfranzose" (Wilna, 1861).
Bibliography:
A. Kaplan, Ḥayye Mapu, Vienna, 1870;
Brainin, Abraham Mapu, Piotrokow, 1900;
Friedberg, Zikronot, in Hausfreund, i. 21 et seq.;
S. Sachs, Le-Toledot Abraham Mapu, in Ha-Meassef, pp. 13 et seq. (supplement to Ha-Ẓefirah, Warsaw, 1903);
N. Slouschz, Littérature Hebraïque, pp. 104 et seq., Paris, 1903.
H.
R.
A.
S.
W.