MOSENTHAL, SOLOMON HERMANN VON:
Austrian dramatist and poet; born at Cassel, Hesse-Nassau, Germany, Jan. 14, 1821; died at Vienna Feb. 17, 1877. He attended the gymnasium at Cassel and the Polytechnicum in Carlsruhe. He soon withdrew, however, and in 1841 went to Vienna as private teacher in the house of Moritz von Goldschmidt. In 1846 his "Der Hollander Michel," a dramatized folk-story, was produced; and this was succeeded in the following year by his three-act drama "Die Sklavin." Neither of these had any enduring success. Two years later (Dec. 18, 1849) the production of his poetical drama "Cäcilia von Albano" received the cordial approval of public and critics alike, and opened for him the doors of the Burgtheater. Its success was still further heightened on its publication in Budapest in 1851. His next production, "Deborah" (Budapest, 1849; Presburg, 1875, 6th ed. 1890), was translated into the principal modern languages. In English it became famous under the title of "Leah, the Forsaken." It was first produced at the royal theater in Berlin in 1850.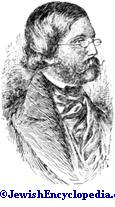 Solomon Hermann Mosenthal.
In the meantime Mosenthal had, early in 1850, secured a position as librarian at the Ministry of Education. In the same year his play based on the novel "Ein Deutsches Dichterleben" by Otto Müller, was produced at the Burgtheater. It was founded on the story of the life of the poet Bürger. His next production was "Der Sonnenwendhof," Leipsic, 1857 (3d ed. 1875; fifteen years after his death a Low German version by Anny Schäfer, under the title "Auf'm Sunnwendhof," was published in Munich in 1892 and included in the "Münchener Theater-Bibliothek"). There followed in succession: "Das Gefangene Bild," Stuttgart, 1858; "Düweke," Leipsic, 1860; "Die Deutschen Komödianten," ib. 1863; "Pietra," tragedy, ib. 1865; "Der Schultz von Altenbüren," ib. 1868; "Isabella Orsini," 1870, of which an English translation by E. Vincent was published at Vienna in 1875; "Maryna," historical drama, Presburg, 1870; "Die Sirene," comedy, 1875. Mosenthal also wrote the following librettos: for Otto Nicolai, "Die Lustigen Weiber von Windsor," Vienna, 1871 (reprinted 1888); for Kretschmer, "Die Folkunger," Dresden, 1874; for Brüll, "Das Goldene Kreuz," Berlin, 1875; for Carl Goldmark, "Die Königin von Saba," Vienna, 1888; and "Die Kinder der Heide," music by Anton Rubinstein.
A volume of his poems was published at Vienna as early as 1847. A complete edition was issued in 1866. He also wrote a novel, "Jephtha's Tochter," which was included in the "Neuer Deutscher Novellenschatz," No. 2, Munich, 1884. A collected edition of his writings, for the arrangement of which he had left instructions, was published in six volumes at Stuttgart in 1878; with a portrait.
Bibliography:
Necrology in Neue Freie Presse, reprinted in Allg. Zeit. des Jud. 1877, p. 155;
Prof. Hanslick, ib. p. 158;
Meyers Konversations-Lexikon.
S.
M.
Co.