OPPENHEIM, DAVID BEN ABRAHAM (or OPPENHEIMER):
Austrian rabbi, cabalist, liturgist, mathematician, and bibliophile; born at Worms 1664; died at Prague Sept. 12, 1736. After studying at Metz under Gershon Oulif, Oppenheim married Genendel, the daughter of Leffmann Behrends (Liepmann Cohen), court agent of Hanover. Through associations thus formed, combined with an immense fortune bequeathed to him by his uncle, Samuel Oppenheim, court agent of Vienna, he became one of the leading Jews in Germany. In 1691 Oppenheim was appointed rabbi of Nikolsburg and chief rabbi of Moravia. In 1698 he accepted a call to the rabbinate of Brest-Litovsk, but continued to reside at Nikolsburg until 1702, when he became chief rabbi of Prague. In 1713 Oppenheim was apappointed "Landesrabbiner" over one-half of Bohemia, and in 1718 over the whole of it. These nominations were confirmed by decrees of the emperors Leopold I., Joseph I., and Charles IV.
Oppenheim, concurrently with his rabbinicalduties, engaged in business transactions on a large scale, which necessitated his frequent absence from Prague. About this time a controversy arose between him and Jonathan Eybeschütz, the rabbi of Prague. The latter, profiting by Oppenheim's frequent absences, tried continually to win the favor of the Jews of the city. As Oppenheim was a distinguished cabalist, he welcomed Nehemiah Ḥayyun, the well-known Shabbethaian, whose erudition he admired, and gave him both moral and material aid. Moreover, when, later, Oppenheim was drawn by the other rabbis into the fight against Ḥayyun, he seemed to avoid any direct attack on the latter. In 1725 Oppenheim refused his signature to the excommunication of the Shabbethaians, probably because Eybeschütz was one of the signatories. Toward the end of his life he became blind.
Oppenheim was a prolific author, but of his works only the following have been published: "Mo'ed Dawid," novellæ, a part of which was printed with the "Bet Yehudah" of Judah b. Nissim (Dessau, 1698); novellæ on "Sugya Arba' Mittot" (Prague, 1725); several responsa printed in the collections "Shiyyure Keneset ha-Gedolah," "Ḥawwot Ya'ir," and others. The best known of his unpublished works are "Meḳom Dawid," a dictionary of all the places mentioned in the Talmud and of the events that occurred there; "Meẓudat Ẓiyyon," collectanea; "Yad Dawid," commentary on the Pentateuch; "Tefillah le-Dawid," homilies; "Shelal Dawid," containing homilies, novellæ, and responsa; "'Ir Dawid," collectanea and novellæ; "Nish'al Dawid," responsa in the order of the four Ṭurim. He left besides a large number of writings, containing novellæ on the Talmud and commentaries on many cabalistic works. In 1713 Oppenheim composed two seliḥot on the occasion of the epidemic which ravaged Prague at that time. In his epitaph he is praised as a great mathematician.
Oppenheim is especially renowned for his famous Hebrew library, the foundation of which was a numerous collection left to him by his uncle, Samuel Oppenheim, in which were some valuable manuscripts. Oppenheim labored energetically to increase the library, and spared neither money nor time in purchasing rare and costly books. In 1711 he compiled a list of books which he did not possess and made efforts to obtain them. Wolf ("Bibl. Hebr." i. 290) estimated the number of works in Oppenheim's possession at 7,000, including 1,000 manuscripts. Oppenheim was desirous to throw open his library for public use, but could not do so at Prague on account of the censorship; he therefore removed it to Hanover, where it was thrown open under the protection of his father-in-law, Leffmann Behrends, who, owing to his position, had great influence in that city. After Oppenheim's death the library came into the possession of his son Joseph Oppenheim, who pawned it with a senator of Hamburg for 50,000 marks ($12,000). In 1829 the collection, which had been stored in chests at Hamburg, was bought by the Bodleian Library, Oxford, for 9,000 thalers (about $6,435). It consists of cabalistic, theological, Talmudic, philosophical, mathematical, and medical works. Catalogues of it have been made by Tychsen (Hanover, 1764), Israel Bresslau (Hamburg, 1782), Isaac Metz, under the title "Ḳehillat Dawid" (ib. 1826), and Jacob Goldenthal (Leipsic, 1843). The best-arranged catalogue is the "Ḳehillat Dawid." It contains 4,221 numbers, divided into four classes according to the sizes of the books, each class being subdivided into different branches, and each branch arranged in the alphabeticalorder of the titles. To the above-mentioned number of works must be added 1,200 bound with others. The manuscripts follow the printed books in each branch.
Bibliography:
Hock-Lieben, Gal 'Ed (Hebr. part, No. 80;
German part, pp. 42 et seq.);
David Kaufmann, Samson Wertheimer, pp. 95 et seq.;
M. Wiener, in Berliner's Magazin, i. 27;
Grätz, Gesch. 3d ed., x. 313 et seq., 325.
On Oppenheim's library: Zunz, Z. G. pp. 235 et seq.;
F. Lebrecht, in Orient, Lit. v. 247;
L. Dukes, ib. xi. 250, 262, 297;
Hartmann, in Yedidyah, vi., Berlin, 1820-21.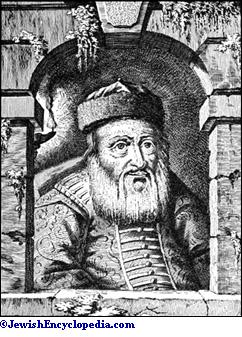 David ben Abraham Oppenheim.
(In the Jewish Museum at Vienna.)
E.
C.
M.
Sel.