SALOMONSEN, MARTIN:
Danish physician; born in Copenhagen March 9, 1814; died there Dec. 21, 1889; father of Carl Julius Salomonsen. He graduated from the University of Copenhagen (Candidatus Medicinæ, 1838), and afterward took up the study of physiology. In 1842 he was appointed assistant physician in the Royal Guards, and in 1844 district physician in Copenhagen. In this capacity he did much to bring about a reform in the statistics of diseases; and it was largely due to him that the law requiring physicians in Copenhagen to issue weekly reports was enacted (1850). Salomonsen's work "Udsigt over Kjöbenhavns Epidemier i Sidste Halvdel af det Attende Aarhundrede" (Copenhagen, 1854) gained for him from his alma mater the honorary degree of doctor of medicine.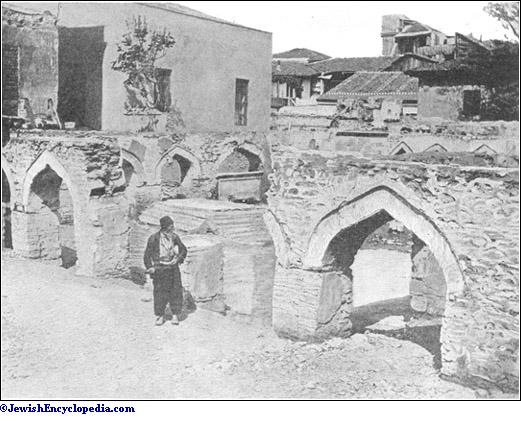 Scene in the Old Jewish Quarter at Salonica.
(From a photograph by E. N. Adler.)
Bibliography:
Caröe og Selmer, Den Danske Lœgestand, 6th ed.;
Erslew's Forfatter Lexicon;
C. F. Bricka, Dansk Biografisk Lexicon.
S.
F.
C.