SEMON, SIR FELIX:
English specialist in diseases of the throat; born at Danzig Dec. 8, 1849; nephew of Julius Semon. He studied medicine at the universities of Heidelberg, Berlin, Vienna, and Paris and at St. Thomas's Hospital, London, receiving his diploma as physician in 1873. His studies were interrupted by the Franco-Prussian war, in which he took part as assistant surgeon.
Settling in the English capital in 1874, he became assistant at St. Thomas's Hospital, where from 1883 to 1897 he was chief of the laryngological department. At present (1905) he is laryngologist to the Hospital for Epilepsy and Paralysis, Queen's square, London.
In 1894 Sir Felix received the title of professor from the crown of Prussia; in 1897 was knighted by the Queen of England; and in 1901 was appointed physician extraordinary to the King of England. He was one of the founders of the Laryngological Society of London, of which he was president for a number of years; he founded and is the editor of the "International Journal of Laryngology and Rhinology"; and is a fellow of the Royal College of Physicians.
Sir Felix has translated into German Sir Morell Mackenzie's "Diseases of the Throat and Nose," and has written many valuable papers on diseases of the throat and on interlaryngeal operations.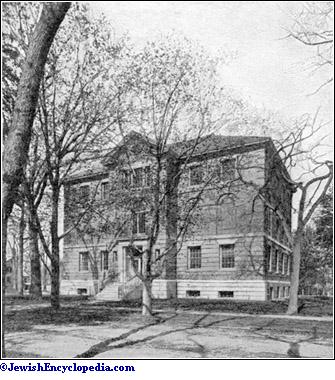 The Semitic Museum, Harvard University, Cambridge, Mass.
(From a photograph.)
J.
F.
T.
H.