AMADOR DE LOS RIOS, JOSÉ:
Spanish historian of the Jews in Spain and Portugal, and archeologist; born 1818; died at Seville, 1878. De los Rios was for some time inspector-general of public instruction in Spain. He wrote many works archeological in character, two of which are of interest to Jews. In 1848 he published in Madrid "Estudios Históricos, Políticos, y Literarios sobre los Judíos de España." This was translated into French (Paris, 1861), and later on was expanded into the larger work on the same subject, "Historia Social, Política, y Religiosa de los Judíos de España y Portugal" (3 vols., Madrid, 1875-76). Amador de los Rios was interested chiefly in the constitutional position of the Jews; and his work, from this side, is very thoroughly done. He was, however, unacquainted with Hebrew, or Jewish sources; and his treatment of literary history in the earlier book is derived merely from the uncritical notes of De Castro.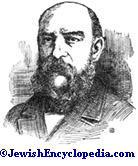 José Amador de los Rios.
(From the frontispiece to his "Historia.")
Bibliography:
List of his sources given in Jacobs' Sources of Spanish-Jewish History, pp. 213-244, and summary of the contents of the book, pp. 214-221.
J.