TIKTIN:
A Silesian family of rabbis originating from Tiktin, a town in Poland.
Abraham ben Gedaliah Tiktin:
German rabbi; born at Schwersenz, Posen; died at Breslau Dec. 27, 1820. In 1811 he was appointed rabbi at Glogau, and five years later, by a royal rescript of Sept. 5, he became chief district rabbi at Breslau, where he officiated until his death. He was the author of several works, although only one appeared in print, namely, "Petaḥ ha-Bayit" (Dyhernfurth, 1820), novellæ on the fourth part of the Shulḥan 'Aruk.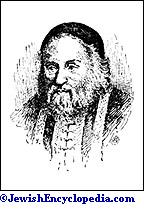 Abrabam Tiktin.
(From an old print.)
At Tiktin's funeral Rabbis Jacob of Lissa, Moses Kronik, and Solomon Plessner delivered sermons, all of which were published.
S.
S.
O.
Gedaliah Tiktin:
German rabbi; born about 1808; died at Breslau Aug. 8, 1886. Like his father, Solomon Tiktin, whom he succeeded in the rabbinate of Breslau in 1843, Gedaliah was the champion of Orthodox Judaism. The war which had been carried on for years between the Orthodox and Reform parties, headed respectively by Solomon Tiktin and Abraham Geiger, was continued after the former's death. The Reform party endeavored to influence the German government to recognize Geiger as rabbi of Breslau; but, owing to Tiktin's personal merit, King Frederick William IV. confirmed him in office, and, later, even conferred on him the title of "Königlicher Landesrabbiner." It was not until after Geiger's death that Tiktin and Joël, Geiger's successor, came to an understanding in order to maintain peace in the Jewish community of Breslau. Even after his confirmation by the king, Tiktin had not exercised his power with regard to the slaughterers ("shoḥaṭim"), but had contented himself with abstaining for several years from eating meat.
Tiktin was known also for his charitable activity during the forty-three years of his rabbinate; and there was hardly any charitable institution of which he was not a member. In 1870 he received the decoration of the Order of the Red Eagle in recognition of services rendered by him to the sick and wounded during the Franco-German war of 1870-71. Special courtesies were paid to him by the German government on account of his weekly visits to the Jewish prisoners.
Tiktin was the author of a pamphlet entitled "Beitrag zur Bearbeitung der von Seiten der Behörde . . . Gerichteten, den Jüdischen Kultus Betreffenden Fragen" (Breslau, 1843).
Bibliography:
Allg. Zeit. des Jud. 1886, p. 554;
Fürst, Bibl. Jud. iii. 431;
Ha-Ẓefirah, xiii., No. 106.
Solomon Tiktin:
German rabbi; born at Glogau; died in Breslau March 20, 1843; son of Abraham Tiktin. He was a prominent champion of Orthodox Judaism; and some idea of his anti-Reform activity may be gathered from the writings of his opponent, A. Geiger. Tiktin became rabbi at Breslau in 1824. In 1836 he prohibited the printing in Breslau of Moses Brück's "Die Reform des Judenthums." But the real war between Tiktin and the Reform party began when Geiger presented himself as a candidate for the position of second rabbi ("Rabbinatsassessor" or "dayyan") of Breslau. Geiger was invited to preach in Breslau on July 21, 1838; but Tiktin is said to have applied to the police to prevent Geiger from doing so. In 1842 Tiktin published his two pamphlets, "Darlegung des Sachverhältnisses in Seiner Hiesigen Rabbinats-Angelegenheit" and "Entgegnung auf den Bericht des Ober-Vorsteher-Collegiums der Hiesigen Israeliten-Gemeinde an die Mitglieder," in which he accused Geiger of having deliberately planned the destruction of the foundations of Judaism. Tiktin insisted that Geiger should not be present either at a divorce or at a ḥaliẓah ceremony, thus denying him recognition as a rabbinical authority.
Bibliography:
A. Geiger, Nachgelassene Schriften, i. 52 et seq.;
idem, in Der Israelit, 1843, p. 64;
E. Schreiber, Abraham Geiger, pp. 20 et seq., Spokane, 1892.
S.
M.
Sel.