APHEK, THE BATTLE OF:
This event, described in I Kings, xx. 26-34, was one of the most notable in the prolonged warfare between northern Israel and the Arameans of Damascus. The Syrians, who, under Ben-hadad II., had been defeated by Israel the year before in a conflict among the hills of Samaria (I Kings, xx. 23), stationed themselves in the lowland, which they believed a more advantageous position. Their rendezvous was probably Aphek, in the north end of the great plain of Sharon. They were again defeated, and after being blockaded in Aphek they surrendered to Ahab, who treated them mercifully and allowed them to return to Damascus. One result of the victory was that a truce, lasting over two years, was concluded between Israel and Damascus, so that the following year (854 B.C.) Ahab and Ben-hadad were found fighting side by side against the Assyrians. War, however, broke out again in 853, when Ahab was killed at Ramoth-Gilead.
J.
F.
McC.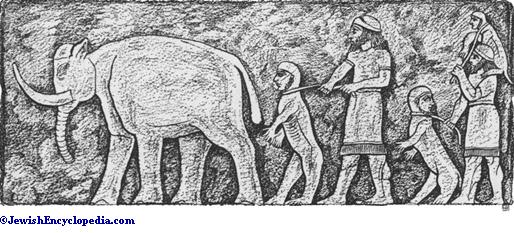 Apes Led and Carried as Tribute.
(From Layard, "Nineveh.")