ARNSTEIN, FANNY (VÖGELE) VON:
A leader of society in Vienna; born in Berlin September 29, 1757; died near Vienna June 8, 1818. Daniel Itzig, the wealthy and generous banker, and head of the Jewish community of Berlin, was her father. She was one of a family of nine daughters and four sons. Itzig being a man of culture, and surrounded by an attractive family, his house became a social center. Close relation existed with the Mendelssohn circle, even before Fanny's brother-in-law David Friedländer came to Berlin, and two of Mendelssohn's sons married members of her family. Henriette Herz, Rahel, Dorothea, and Henriette Mendelssohn, Marianne Meyer, and the other representatives of the Jewish salon period were her intimate friends. On her early marriage with the banker Nathan Adam von Arnstein she carried the social influences of Berlin, as molded by Frederick the Great, to the Vienna of Joseph II. To wide reading and unusual linguistic attainments she joined an attractive exterior, tact, grace, and distinguished bearing, and, above all, extraordinary kindness of heart. The Von Arnstein mansion at Vienna and her villas at Schönbrunn and Baden were daily thronged with guests; and her easy hospitality, of which Rahel writes in her letters, embraced alike the prosperous and the poor. Her benefactions, private and public, were endless; she was especially active in ameliorating the destitution that followed the disasters of 1809. Ladies of rank united to care for the needy; and, though a Jewess and of the inferior nobility, she was invited to join them on account of her executive ability and sagacity. When the same association founded a hospital at Baden, near Vienna, she collected 7,000 florins among her coreligionists; and in 1813 she sent supplies to Rahel, then engaged in relief-work at Prague. Love of her adopted country filled her soul; and the opinion she had conceived of Napoleon and the French, on her visit to Paris during the Consulate, did not tend to lessen her almost personal grief over Austrian and Prussian reverses. The Frenchmen who freely gathered round her were never left in doubt as to her feelings. On the other hand, the German victories of 1813-14 gave her the keenest delight; and the Vienna Congress saw her at the zenith of social success. Her salon was frequented by the celebrities assembled at the capital—Wellington, Talleyrand, Hardenberg, Capo d'Istrias, Varnhagen von Ense, his wife, the Schlegels, Justinus Kerner, Karoline Pichler, and Zacharias Werner. For over a generation she exercised an influence upon Austrian art and literature. She was one of the founders of the Gesellschaft der Musikfreunde. Only one shadow fell upon her life. During her widowhood her beauty attracted admirers and suitors, whom she successfully kept at a distance. Prince Karl von Lichtenstein was particularly assiduous in his attentions. A rival, Freiherr von Weichs, ascribing his own lack of success to Frau von Arnstein's preference for Lichtenstein, challenged and killed him. Though the first families of Vienna were concerned, Frau von Arnstein was wholly exonerated, and continued to enjoy her popularity. Despite the distractions of society, she was a devoted mother to her only daughter, Henrietta, Baroness Pereira-Arnstein, who inherited her intellect, grace, beauty, and goodness.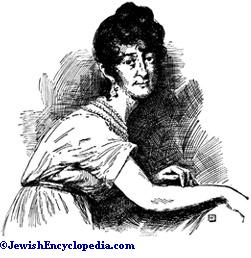 Fanny von Arnstein.
(From Kohut, "Geschichte der Deutschen Juden.")
Bibliography:
Varnhagen von Ense, Ausgewählte Schriften, xvii. 328-335;
Wurzbach, Biographisches Lexikon des Kaiserthums Oesterreich, Vienna, 1750-1850;
M. Kayserling, Die Jüdischen Frauen, 1879, pp. 220-226;
A. de la Garde, Fétes et Souvenirs du Congrès de Vienne, 1843, i. 439;
Fr. Gräffer, Kleine Wiener Memoiren, i. 249, iii. 247;
Oesterreichische National Encyklopädie, i. 121;
Iris, 1854, p. 51;
Blätter für Musik, Theater, und Kunst, published by L. A. Zellner, 1855, vol. i. No. 89.
S.
H.
S.