BASEL-LAND:
A canton of Switzerland. It did not admit the French Jews, who had bought property in Liestal, the capital of the canton, notwithstanding the treaties existing between Switzerland and France. Jews have only recently resided in Liestal. The few Jews who had nevertheless settled there were expelled in 1839, in spite of the protests of the French government. Even as late as Nov. 17, 1857, a law was passed decreeing that "the rights of settlement, of plying a handicraft, and of trading are forbidden to every Jew without exception." Whoever received a Jew into business or into his family was liable to a fine of 300 francs, and on repetition of the act was to be imprisoned. Whoever rented a store to a Jew incurred a penalty of 50 francs. The Jews were, however, permitted to visit the regular fairs, to pass through the canton, and to stay there temporarily.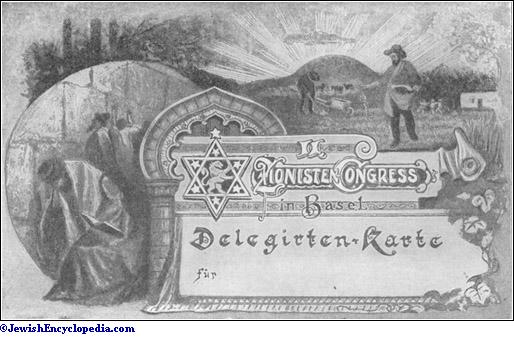 Delegates' Card at the Second Zionist Congress at Basel.
Bibliography:
Denkschrift der Gesandtschaft der Vereinigten Staaten von Nordamerika, Gerichtet an den Schweizerischen Bundesrath vom 26. Mai, 1859, Bienne, 1863.
D.
M.
K.