BETTELHEIM:
Name of a Hungarian family. The first bearer of it is said to have lived toward the second half of the eighteenth century, in Presburg. To account for its origin the following episode is related in the family records: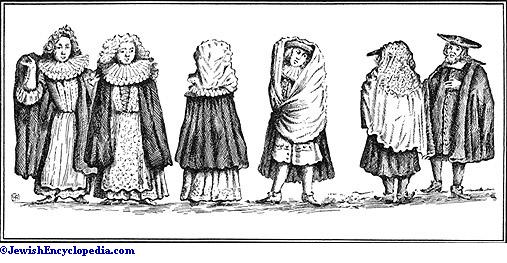 Costumes of Bride and Groom among the German Jews, Eighteenth Century.
(After Kohut, "Geschichte der Deutschen Juden.")
There was a Jewish merchant in Presburg, whose modest demeanor gained for him the esteem of his fellow-townsmen. He was popularly called "Ein ehrlich Jud" (honest Jew). His wife was a woman of surpassing beauty, and many magnates of the country, hearing of her charms, traveled to Presburg to see her. Count Bethlen was particularly persistent, and, failing to attract her attention, he decided to abduct her. Mounted on his charger, he appeared one day in the open market, where the virtuous Jewess was making purchases, and, in the sight of hundreds of spectators, lifted her on his horse, and, heedless of her cries of entreaty, was about to gallop off with her, when her husband appeared on the scene and, after a fierce personal combat, succeeded in rescuing her.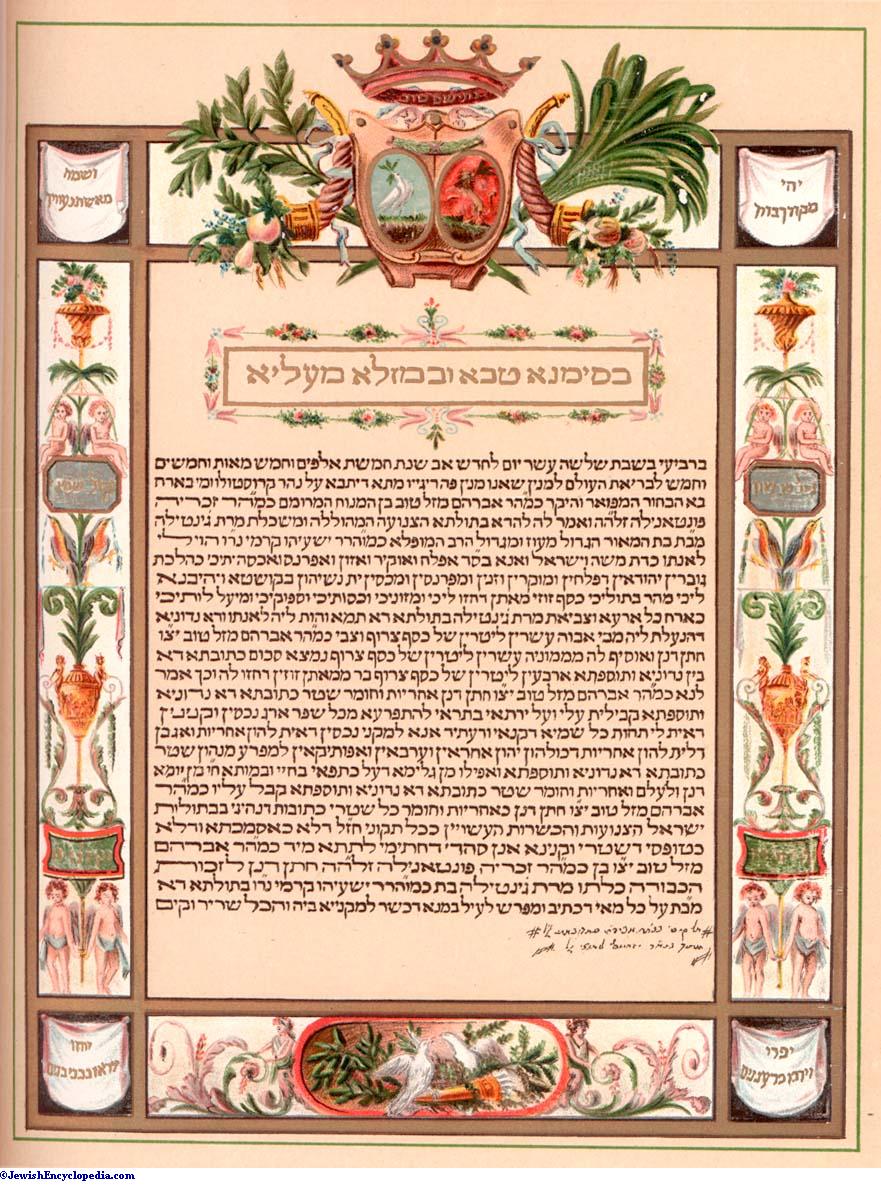 ITALIAN KETUBAH, or BETROTHAL DEED, dated 5555 A.M.
(from the New York Public Library)
That a Jew should engage in a hand-to-hand encounter with a nobleman of the rank of Count Bethlen was so unprecedented, and the deed itself was so daring in view of the social status of the Jews of those times (which remained unchanged until the liberal laws of Emperor Joseph II. were promulgated), that the populace thenceforth styled the hero of the story "Bethlen-Jude." This name clung to him until the royal edict, bidding Jews to assume family names, went into force, and then the name was changed to "Bettelheim." Among the family relics preserved by a scion of the house in Freystadtel, on the Waga, is an oil-painting which depicts the daring rescue of the Jewess from the hands of her abductor.
Of the descendants bearing the name of Bettelheim the following are the most prominent:
1. Albert (Aaron) Siegfried Bettelheim:
Rabbi and Hebraist; born in Hungary April 4, 1830; died at sea Aug. 21, 1890. At the age of eleven he entered the yeshibah of Presburg, and afterward studied in the Talmudical schools at Leipnik, Moravia, and Prague; enjoying the tutelage of S. L. Rapoport, from whom, at the age of eighteen, he obtained his rabbinical diploma. Bettelheim officiated for a short time as rabbi and religious teacher at Münchengrätz, and then returned to Prague to enter the university, whence he graduated with the degree of Ph.D.
Becomes Censor of Hebrew Books.
In 1850, and for several years thereafter, Bettelheim was the Austrian correspondent of a number of London journals, and acted as private tutor ("Hofmeister") to Count Forgács, then governor of Bohemia, and afterward Hungarian court-chancellor. In the early fifties Bettelheim removed to Temesvár, Hungary, where he was director of the Jewish schools and editor of a political weekly called "Elöre" (Forward). In 1856 he became the "official translator of Oriental languages and censor of Hebrew books" at Czernowitz, where, in 1858, he married Henrietta Weintraub, the first female Jewish public-school teacher in Hungary. In 1860 he became rabbi at Komorn, Hungary, where he was appointed superintendent of all the schools—the first Jew to gain such a distinction. Thence he went to Kaschau, where he officiated as rabbi until 1862. While at Kaschau he edited a Jewish weekly, "Der Jude" (jargon), to combat the views of the Jewish Congress, then holding animated conventions at Budapest. There, too, he edited a political weekly, whose progressive ideas were discountenanced by his congregation and held to be prejudicial to Judaism. The fanaticism of his people became so pronounced that, being threatened with excommunication by one of the colleagues of his former domicile in Komorn, he decided to emigrate to America with his family.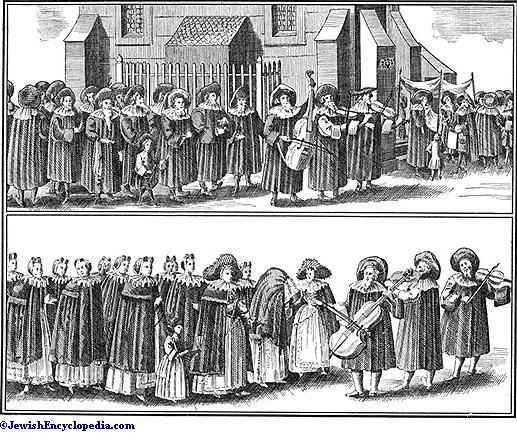 Processions of Bridegroom and of Bride, Circa 1700.
(From Kirchner, "Jüdisches Ceremoniell," 1726.)
Emigrates to America.
In 1867 Bettelheim was elected rabbi of the Crown street congregation (now Beth Israel) of Philadelphia, and became a professor at the Maimonides College. In 1869 he became rabbi of congregation Beth Ahabah, of Richmond, Va., where he established and edited a German weekly, "Der Patriot" (afterward changed into a daily, with the title "The State Gazette"). While in Richmond he entered the Medical College, and was graduated with the degree of M.D. He intended to write a work on Jewish medicine, and has left behind a number of monographs and other documentary material not yet published.
Though assured of a remunerative practise as a physician, Bettelheim, at the solicitation of his congregation and of clergymen of other denominations, whose honored associate he was, did not forsake the pulpit. In 1875 he was elected rabbi of the Ohabai Shalom congregation of San Francisco, Cal., where he became chairman of the Society for the Study of Hebrew, composed entirely of Christian clergymen, and director of the Society for the Suppression of Vice. He held other public offices, and delivered the baccalaureate sermon at various high schools and colleges. He occupied the pulpits of the Unitarian and Baptist churches in San Francisco, and afterward in Baltimore, where, in 1887, he became rabbi of the First Baltimore Hebrew Congregation, an office he held till his death. In Baltimore he became identified with a number of public institutions and charitable organizations, and instructed some non-Jews in the elements of the Hebrew language.
While on the homeward voyage from a visit to Europe, he died on board ship, and was buried Aug. 21, 1900. Two Catholic priests, whose acquaintance Bettelheim had made on the voyage, read the Jewish burial service and recited the "Kaddish" as the body was lowered into the sea.
His Literary Activity.
Bettelheim's literary activity was of the most varied kind. Besides the items enumerated above, it may be noted that he was the art critic of a prominent San Francisco journal; coeditor of the "Jewish Times" (now the "Jewish Times and Observer") of San Francisco, from 1880 to 1886; a regular contributor to the "Argonaut" of that city; a frequent contributor to the "Jewish Exponent" of Philadelphia, and the "Menorah Monthly" in New York. He was the author of some charming ghetto tales and stories of Jewish life, two of which—"Yentil the Milk-Carrier" and "The Baal-Milhamah-Rabbi"—were translated into German, Hungarian, and Hebrew. He was at work for over twenty years on a Revised English Bible, about three-fourths of which he had completed in manuscript at the time of his death. Many of his suggestions and scholarly notes are incorporated in the last two volumes of Kohut's "Aruch Completum."
Bibliography:
Baltimore American and Baltimore Sun of Aug. and Sept., 1890;
George Alexander Kohut, Rev. Dr. Aaron Siegfried Bettelheim: a Biographical Sketch, in Jewish Exponent, Philadelphia, 1890;
idem, in Jewish Comment, Baltimore, Aug. 17, 1900.
S.
G.
A.
K.
2. Anton Bettelheim:
Austrian critic and journalist; born at Vienna Nov. 18, 1851. He studied law, and for some time was engaged in active practise, but abandoned the profession for a literary career. Although he had received his degree of "doctor of law," he attended the lectures of Giesebrecht and M. Bernays at Munich on literary subjects. Fired by the eloquence and enthusiasm of the latter, he undertook the study of Beaumarchais' life and writings, and, to this end, resolved to make original investigations in the libraries of London, Paris, The Hague, Carlsruhe, and Spain. After an extended tour through Germany, France, England, and Spain, Bettelheim became, in 1880, the feuilleton editor of the Vienna "Presse." He retained this position until 1884, when he became editor of the "Deutsche Wochenschrift." In 1886 he joined the editorial staff of the "Deutsche Zeitung," which position he resigned shortly after to publish the "Biographischen Blätter," subsequently issued as "Biographisches Jahrbuch und Deutscher Nekrolog."
Bettelheim's works are: "Beaumarchais," a biography, 1886; a translation of Littré's "Wie Ich Mein Wörterbuch der Französischen Sprache zu Stande Gebracht Habe," 1887; "Volkstheater und Lokalbühne," 1887; "Ludwig Anzengruber, der Mann; Sein Werk, Seine Weltanschauung," 1891 (2d ed. 1898); "Die Zukunft Unseres Volkstheaters," 1892; "Deutsche und Franzosen," 1895; and "Acta Diurna, Gesammelte Aufsätze," 1899.
Bettelheim edited "Führende Geistel," 1890-97, and was also one of the editors of Anzengruber's complete works, published by Cotta, 1890.
Bibliography:
Kürschner, Deutscher Literatur-Kalender, 1901, pp. 98, 99;
Das Geistige Wien, 1893, p. 34.
S.
E.
Ms.
3. Caroline von Gomperz-Bettelheim:
Court singer and member of the Royal Opera, Vienna; born June 1, 1845, at Pesth.
She studied pianoforte with Karl Goldmark, and singing with Laufer. At the age of fourteen she made her début as a pianist, and two years later appeared for the first time in opera at Vienna. She eventually obtained a permanent engagement at the Royal Opera in that city. She has occasionally starred in her favorite rôles in other cities of Germany as well as in London. She is the wife of Julius Ritter von Gomperz, president of the Austrian chamber of commerce and member of the Upper House.
S.
J.
So.
4. Felix Albert Bettelheim:
Physician and surgeon of Panama; born in Freystadtel, on the Waag, Hungary, Sept. 2, 1861; died in Baltimore, Md., April 4, 1890. He was the son of the rabbi Aaron Siegfried Bettelheim, and emigrated to the United States in the sixties. In his seventeenth year he was graduated from the University of California with high honors, and three years later from the Medical College in San Francisco. From 1880 to 1881 he was resident physician of the San Quentin state prison; from 1881 to 1883, ship's surgeon of the Pacific Mail steamship "Colima"; 1883-89, surgeon-general of the Panama Railroad and CanalCompany. Through his efforts the first hospital in Panama was built; and he became one of its staff of physicians. He held several high offices and received a number of medals and testimonials from the government in recognition of his services.
Bettelheim was the discoverer of a new germ peculiar to tropical countries, an account of which is given in medical records. In 1889 he studied clinical methods in the great European cities. On his return to America he died from a tropical liver complaint which was held by American authorities to be unique and was described by Professor Osler, of Johns Hopkins University, in a London medical journal. He was a frequent contributor to the "Lancet" and other periodicals, and left a posthumous work, "On the Contagious Diseases of Tropical Countries," still unpublished. A text-book by Dr. Thorington of Philadelphia, on the diseases of the eye, is dedicated to Bettelheim's memory.
Bibliography:
The periodical Jewish press of April and May, 1890;
Baltimore American, April 5 and 7, 1890;
San Francisco Examiner, April 8, 1890.
A.
G.
A.
K.
5. Jacob Bettelheim (pseudonym, Karl Tellheim):
German dramatist; born at Vienna Oct. 26, 1841. He attained considerable prominence by his first attempt in the field of literature, "Elena Taceano," a romance. This he followed with "Intime Geschichten" (novelettes) and a drama, "Nero," written in collaboration with Von Schönthan in 1889. After "Die Praktische Frau," a farce, came "Giftmischer" and "Vater Morin," two popular plays; two dramas, "Ehelüge" and "Sein Bester Freund"; "Madame Kukuk," a farce; "Syrenen," a popular play; "Seine Gewesene," farce; "Aus der Elite," farce, 1894; "Der Millionenbauer," drama, in collaboration with M. Kretzer; "Verklärung," drama, 1897; "Verklärung," farce, 1898; "Der Retter," comedy, 1898.
Among other works by Bettelheim may be mentioned: "Onkel Jonas," a popular drama, in collaboration with O. Klein, 1898; "Victorinen's Hochzeit" (translated from George Sand's play), 1879; "Marguerite" (from Sardou), 1886; "Der Erbe" (from De Maupassant), 1894; and "Im Verdacht" (from Labiche).
Bibliography:
Kürschner, Deutscher Literatur-Kalender, 1901, p. 98.
S.
E.
Ms.
6. Karl Bettelheim:
Austrian physician; born at Presburg, Hungary, Sept. 28, 1840; died July 27, 1895. He received his medical education at the University of Vienna, where he studied under Hyrtl, Brücke, Rokitansky, and Skoda. In 1868, two years after obtaining his doctorate, he was appointed assistant to Oppolzer, and served in that capacity until 1870. Three years later he became docent of medicine (Innere Medizin) at the University of Vienna. From 1870 to 1878 he was editor of the "Medicinisch-Chirurgische Rundschau," and for several years was chief of the department of internal diseases at the Polyclinic, and physician-in-chief of the Rudolfinerhaus at Unterdöbling, near Vienna.
The scientific investigations of Bettelheim are chiefly on the pathology of the heart and blood-vessels. His experimental researches on mitral insufficiency and on the mechanics of the heart following compression of the coronary arteries are considered of great value.
Bettelheim's writings comprise a number of papers on diseases of the blood and circulatory organs, on certain affections of the alimentary canal, and reports of interesting clinical cases, which he published in the leading medical journals. His most important contributions are: "Ueber Bewegliche Körperchen im Blute," and "Ueber einen Fall von Phosphorvergiftung," in the "Wiener Medicinische Presse," 1868; "Ein Fall von Echinococcus Cerebri," "Stenose eines Astes der Pulmonalarterie," and "Bemerkungen zur Diagnose des Magencarcinoms," in "Vierteljahrschrift für Psychiatrie"; "Die Sichtbare Pulsation der Arteria Brachialis, ein Beitrag zur Symptomatologie Einiger Erkrankungen der Circulationsorgane," in the "Deutsches Archiv für Klinische Medicin," 1878; "Die Bandwürmer beim Menschen," in the "Sammlung Kliniseher Vorträge," 1879. He translated from the French R. Lépine's "Pneumonia Lobvin," Vienna, 1883; and "Diseases of the Spinal Cord," by the English neurologist Gowers. Bettelheim also described the origin of the second sound in the carotid artery ("Entstehung des Zweiten Tones in der Carotis," in "Zeitschrift für Klinische Medicin," 1883).
Bibliography:
L. Eisenberg, Das Geistige Wien, ii. 26;
Hirsch, Biographisches Lexikon, i. 440;
Pagel, Biographisches Lexikon, p. 161.
S.
W.
S.
7. Leopold (Meyer Leb) Bettelheim:
Hungarian physician; born Feb. 23, 1777; died April 9, 1838. He was not only eminent in his profession, but was considered a Hebraist of some importance. He lived in Freystädtel, on the Waag, and there held the responsible office of physician-in-ordinary to Count Joseph Erdödy, the influential court chancellor of Hungary, in whose private residence are still preserved the surgical instruments used by Bettelheim in saving the lives of the count and his family, together with documents recording some remarkable cures effected by him.
In 1830 Bettelheim was the recipient of a gold medal of honor from the emperor Franz I. for distinguished services to the royal family and to the nobility.
8. Samuel (Shemuel Ẓebi) Bettelheim:
Son of Leopold (No. 7); physician, merchant, and political leader during the troublous years preceding the Revolution of 1848. He was also an eminent Hebraist. His wife, Eva, was a woman of unusual scholarly attainments, and an earnest student of the Bible and its commentaries. She was an excellent Talmudist and wrote a number of disquisitions on learned rabbinical questions. The famous reformer Hodza, an evangelical pastor and organizer of a violent Slavonic movement in northern Hungary in 1848, was her instructor in classical and modern literature.
Bibliography:
Gróf Erdödy József Krónikója (printed for private circulation only), pp. 84-86;
Pozsonyi Közlöny, 1863, p. 6;
a transcript from old family records supplied for this biography by Dr. Joseph Bettelheim in Budapest.
S.
G.
A.
K.