BLOCH, PHILIP:
Rabbi and author; born in Prussia May 30, 1841. He studied at the University of Breslau, and under Frankel, Grätz, and Jacob Bernays at the Jewish Theological Seminary; graduated as Ph. D. in 1864; and received his rabbinical degree in 1867. He organized a Jewish congregational school at Munich in 1869; and became rabbi of the Israelitische Brüdergemeinde at Posen in 1871. Interested at first in religio-philosophic and haggadic studies, he devoted himself later to historic researches on the Jews of Poland.
Bloch is the author of the following works: Glauben und Wissen," a translation of the introduction and first book of Saadia's "Emunot we-De'ot," 1879; "Die Willensfreiheit von Chasdai Kreskas," which is chap. v. of the second treatise of the "Or Adonai" translated and explained, 1879; "Die Generalprivilegien der Polnischen Judenschaft," 1892; "Geschichte der Entwickelung der Kabbalah und der Jüdischen Religionsphilosophie," 1894; "Heinrich Grätz, a Memoir," 1898—prefatory to the index volume (vi.) of the American edition of Grätz's history. Among the numerous essays which he contributed to the various magazines may be mentioned: "Studien zur Haggadah," contributed to "Monatsschrift," 1885, pp. 166 et seq.; Die Piskoth für die Drei Trauersabbathe,

, Uebersetzt und Erläutert," in "Festschrift zum Achtzigsten Geburtstage Moritz Steinschneider's," 1896, pp. 41 et seq.; "Die Sage von Saul Wahl, dem Eintagskönig von Polen," in "Zeitschrift der Historischen Gesellschaft für die Provinz Posen," 1889, p. 233; "Judenwesen, Jahr 1793," in "Das Urkunden und Aktenstücke zur Organisation Südpreussens," 1895, p. 591.
The following sketch-pedigree gives the descent of Dr. Philip Bloch: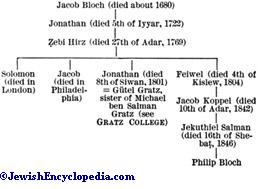 All of these were Talmudists, but the most important was
Jonathan Bloch:
Founder of the Congregation Langendorf in Russia; bought a cemetery, and had a Talmudic school from which were graduated some well-known rabbis.
S.
P.
B.