BRAHAM, JOHN (stage name of John Abraham):
English tenor singer; born in London 1774; died there Feb. 17, 1856. His parents dying in his childhood, he became a chorister at the Duke's Place Synagogue, till one of his former companions in the choir, named Leoni, adopted him. Under him Braham studied and made such progress that on April 21, 1787, he made his début at Covent Garden Theater. Two years later Leoni became bankrupt, and Braham was thrown on his own resources until he met Abraham Goldsmid, a man of wealth who became his patron. Next he went to Bath, where he sang under Rauzzini till 1796, when he was engaged by Storace at Drury Lane Theater to sing in his new opera, "Mahmoud" (April 30, 1796). Here Braham was so successful that he was at once engaged for the Royal Italian Opera House, as well as for the annual oratorios and at the Festival of the Three Choirs at Gloucester.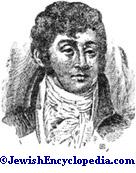 John Braham.
In 1797 Braham determined to go to Italy to study singing. On arriving at Paris he and Nancy Storace gave a series of successful concerts under the patronage of Josephine Beauharnais, which delayed their arrival in Italy till the following year. There they sang at all the chief cities, including Florence, Milan, Genoa (where Braham studied under Isola, and sang with Marchesi), Leghorn, and Venice, whence they proceeded to Triest, Vienna, and Hamburg.
In 1801 Braham reappeared at Covent Garden, and from this point his career was an unbroken succession of triumphs. On Feb. 9, 1802, was produced "The Cabinet," the libretto of which was written by Thomas Dibdin, and the music by Braham. Then came "The Siege of Belgrade" (March 15) and "Family Quarrels" (Dec. 18, 1802), the work of Dibdin, with the music of Braham, Moorhead, and Reeve, in both of which Braham appeared. On Dec. 13, 1803, he sang in "The English Fleet," the entire music of which was Braham's own composition; in this opera he introduced the duet "All's Well," which has become one of his best-known works. He wrote also the score of "Thé Paragraph," and on Dec. 10, 1804, sang in "Thirty Thousand," in the production of which he collaborated with Reeve and Davy. On March 27, 1806, he appeared at the King's Theater as Sesto, in Mozart's opera "Clemenza di Tito," the first performance of any of Mozart's operas in England.
Braham seceded to Drury Lane in 1805, and produced there most of his operas. Among these were "False Alarms," on the score of which he was assisted by King (Jan. 3, 1807); "Kais," jointly with Reeve (Feb. 11, 1808); "The Devil's Bridge" (Oct. 10, 1812); "Narensky," with the assistance of Reeve (Jan. 11, 1814); "Zuma," in conjunction with Bishop. Of other operas may be mentioned "The Americans," by Braham and King, produced at the Lyceum April 27, 1811, and in which occurred his famous song, "The Death of Nelson"; "Isidore de Merida" (1827), and "The Taming of the Shrew," both in conjunction with T. B. Cooke as librettist, in the following year.
In 1810 he joined Mrs. Billington in a tour of the provinces, and on his return the next year he appeared at the Lyceum. For two years Braham was engaged with Reeve in composing; and in 1816 he reappeared in Italian opera at the King's Theater in Mozart's "Clemenza di Tito," singing his old part, Sesto. This opera was followed by "Cosi fan Tutte," by the same composer, in which Braham sang Guglielmo. In the same year he married Miss Bolton of Ardwick, in Lancashire.
Braham published, in concert with I. Nathan, "A Selection of Hebrew Melodies, Ancient and Modern," in 1815, for which Lord Byron wrote his famous "Hebrew Melodies."
When Weber's "Freischütz" was first produced in England (at the Lyceum July 20, 1824), Braham created the part of Max; and in the same composer's "Oberon," presented at Covent Garden Theater April 12, 1826, he interpreted the part of Sir Huon, and was especially strong in the scena "O 'tis a glorious sight to see!" written expressly for him.
Braham was also actively engaged at concerts, oratorios, and provincial festivals, and for more than a generation was regarded as the national singer. His voice was of extraordinary power, sweetness, and compass (19 notes in natural tone, with a falsetto ranging from D to A in alto). Though he could sing in faultless style and taste, rarely did he resist the opportunity for sensational effects.
Braham amassed a large fortune during his forty years of professional life; but he subsequently lost it by disastrous speculation. In 1831 he bought the Colosseum in Regent's Park, London, and four years later he built the St. James's Theater. Both ventures proved ruinous; and in 1839 Braham found himself compelled to return to the stage and concert-room. In 1840 he went to America on a tour which proved unsuccessful. For several years Braham continued to sing at concerts and provincial festivals, and he did not retire until March, 1852.
Bibliography:
Dict. National Biography, s.v.;
Grove, Dict. of Music and Musicians, s.v.;
Daily Chronicle, July 7, 1887, London;
Anglo-Jewish Historical Exhibition Catalogue, 1887, p. 57;
Hervey, Celebrated Musicians, s.v;
Transactions of Jew. Hist. Soc. of Eng.
J.
G.
L.
F.
H.
V.