BRANDES, GEORG MORRIS COHEN:
The Martensen-Nielsen-Bröchner Controversy.
Danish author and critic; born in Copenhagen, Denmark, Feb. 4, 1842. He graduated in 1859, and for a short time studied law, but soon determined to devote his life to literature and philosophy. Brandes gained the university gold medal for his essay "The Idea of Fate Among the Ancients," in 1863; and the next year he took the degree of "canditatus magisterii." He spent the years 1866-67 in Paris, and was in Germany during 1868. From 1865 onward he had been in the midst of the conflict that raged around the burning questions of the day raised by Sören Kierkegaard and the Neo-Hegelians. Brandes entered into a three-cornered controversy between Bishop Martensen representing orthodoxy as against Rasmus Nielsen with his attempted harmonization of science and faith, and Bröchner on the side of science and philosophy. Brandes sided with Bröchner, whom he called his master, and expressed himself in a pamphlet entitled "The Dualism in Modern Philosophy" (1866). The authorship is Brandes', but the ideas in it are not his own only, but also those of a group of younger men, who had chosen him as their spokesman. The pamphlet reveals Brandes as a declared advocate of free thought and as a radical opponent of the current thoughts of the day; it maintains the impossibility of squaring orthodoxy with science and philosophy, and shows the trend of Brandes' future work.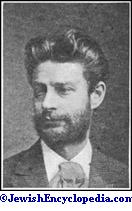 Georg Brandes.
In esthetics he did not attain self-consciousness so quickly. For many years he could not liberate himself from the ruling esthetic ideas of the day—those of F. W. Hegel and P. A. Heiberg, H. Hertz, and Hostrup. Here it was French poetry and criticism that brought him freedom and clearness of thought. His practical philosophy, which was utilitarian and naturalistic, came from John Stuart Mill, whom he knew personally and greatly admired, and from positivism. His method of literary criticism he got from Hippolyte Taine; but its color is a reflex from Musset, Merimée, and St. Beuve.
Studies, controversies, and natural growth brought Brandes maturity; and in 1870 he took his Ph.D. degree, his thesis being "The French Esthetics of Our Day—An Essay on Taine." He left Denmark immediately after and spent 1870-71 abroad, visiting Taine, Mill, and Renan. When he returned in the fall of 1871 he was a mature thinker, a realist, and a literary revolutionist, entirely free from theological ethics, metaphysics, and romantic notions in esthetics. But Brandes was and is more than a radical. That he is a reformer in the best sense isproved by his constant demand for truth, by the evolution of his genius, and by his strong personality. His history has proved the need of just such a person in the Danish community and in the north in general.
His "Main Currents."
In the autumn of 1871 he began his famous series of lectures, "Main Currents in Nineteenth-Century Literature." Brandes talks much about foreign literature, but aims always at the Danish; charging it justly as being childish, insignificant, and disconnected with universal literature. As reasons for the decay, he points frequently to the political degradation of the country, and shows how it has stood still outside the main currents of civilization and has failed in originality. The charge of lack of originality is not quite correct. Brandes fails altogether to recognize the value of the revival of the Old Norse, as that, for instance, was brought about by Öhlenschläger and Grundtvig. He ridicules the prevailing German and Thorvaldsen ideas of antiquity, the northern family life and sex prudery, the state church, and he defines all things as mere products of climate, time, and race. But he also shows how completely modern life has broken with orthodoxy and romanticism. He fights for "free thought in research, and full sway of the human in art."
Altogether, the lectures were a bold presentation of French radical realism in all its strength and weakness. They aroused an enormous opposition from among the orthodox and reactionary, but gave Brandes a large following, especially of younger students and academic citizens, who understood the necessity of turning their thoughts into the universal currents. Brandes defended himself brilliantly in special pamphlets and in "Nyt Dansk Maaned-skrift," which he edited together with Vilhelm Möller, and later in "Det Nittende Aarhundrede," which he, together with his brother Eduard, edited from 1874 to 1877. Brandes represents the introduction of the scientific method into the study of literature, and the exclusion of the then current so-called moral and esthetic standards represented by the Church, narrow-minded lawgivers, social conventionality, and political trammels. Though the lectures suffered considerably from loose statements, false views, and misrepresentations of historic facts, and though Brandes was not always true to his own genius, they nevertheless made him the father of modern Danish literary and art criticism, and carried his influence throughout the entire north.
Considered "a German of the Germans."
In 1877 Brandes published a literary characteristic of "Sören Kierkegaard" and a masterly psychological treatise on "Danish Poets." In the same year he left Denmark and settled in Berlin. For the time being he had become tired of polemics, and was chagrined because the university had refused him the chair in esthetics, left vacant by the death of Hauch. His farewell was an ovation and a triumph. In Berlin Brandes was considered "a German of the Germans," and he put himself in perfect rapport with German "Kultur." He contributed to the magazines, wrote several monographs, such as "Lassalle" (1877) and "Disraeli" (1880), and edited a German edition of his "Main Currents."
Proclaims Himself an Aristocrat.
In 1882 he returned to Denmark on the invitation of friends who had provided funds for a professorship for him. Conditions proved favorable, and he saw the seed he had sown in literature, art, and politics bearing good fruit. In fact, Danish politics had assumed a character in perfect harmony with his teachings, which result must be ascribed largely to his own influence and to that of his brother Eduard. But Brandes himself was a different person. He was as fiery and many-sided as before, but he paid more attention to the personality of his subjects than formerly, and tried less to represent them as results of the natural environment. The new views appear in lectures delivered at the university and published under the title "Young Germany" (1890); in books like "Modern Representative Men" (1883); "Ludvig Holberg" (1884); "Impressions of Russia" (1888); "Impressions of Poland" (1888); and several collections of essays of the same period. In all these studies can be seen how the influence of Mill and Taine has vanished, and how Brandes' independent study of Lassalle, Renan, Goncourt, Nietzsche, and others has transformed him and created in his mind an appreciation of personality previously entirely lacking. In opposition to the views of the day, he proclaims himself an aristocrat, and he reveals a wider and sounder view of esthetics. The natural result of these changed views was a conflict with several of his former adherents and friends. Thus, in 1885 he became involved, on the question of marriage, in a polemical fight with the author of "A View of Life Founded on Love," a pupil of Mill and Spencer. In 1887 he was engaged in a similar conflict with Björnson; and in 1889 he disputed with Höffding about Nietzsche.
Brandes has written a large work on Shakespeare, which is translated into many languages, and is still (1902) a contributor to the magazines, and his subjects are most varied. In all his articles he presents new and genial views. He is more careful than in younger days, when he often gave his enemies opportunity to attack him on account of second-hand information and defective memory.
The best estimate of Brandes can be formed from the numerous congratulations that came to him on his sixtieth birthday (Feb. 4, 1902), in which he was characterized as "a genial polemic," an "insurrectionist par excellence," and one who had "given us freedom to build upon, fresh courage to breathe, and a light to lighten for us."
By the will of the late Consul Albert Berendsen a fund was bequeathed for a prize essay on "The Significance of Georg Brandes in Danish Social and Spiritual Life." By royal "patent conferring rank" of May 7, 1902, Brandes was made professor, a title which gives him precedence and is a victory for him of unusual importance.
S.
C.
H.
B.