BRÜLL, IGNAZ:
Austrian composer; born at Prossnitz, Moravia, Nov. 7, 1846. In 1848 his parents removed to Vienna, where he became a pupil of Epstein (piano-forte), Rufinatscha (composition), and Dessoff (instrumentation). In 1861 Epstein played with great success a pianoforte-concerto composed by his youthful pupil. After giving piano-forte-recitals at Vienna, at which he played principally his own compositions, Brüll made extensive tours through Germany and England. An orchestral serenade of his, performed at Stuttgart in 1864, served to spread his fame, and in 1872 he was appointed professor at the Horak Institute, Vienna.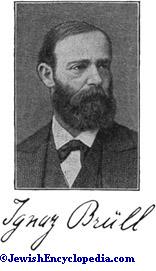 Brüll's first opera, "Der Bettler von Samarkand" (1864), was never played; but the second, "Das Goldene Kreuz" (Berlin, 1875), rapidly became very popular in Germany and abroad. At its first performance at the Imperial Opera House in Berlin, the emperor, William I., personally complimented the composer on his success. The opera was also given in English by the Carl Rosa Company, and was very favorably received in London. It was followed by "Der Landfriede" (Vienna, 1877); "Bianca" (Dresden, 1879); "Königin Mariette" (Munich, 1883); "Das Steinerne Herz" (Prague, 1888); "Gringoire" (one act, Munich, 1892); "Schach dem König" (Munich, 1893); and a two-act comic opera, "Der Hussar" (Vienna, March 2, 1898), a work which has met with great success. The other compositions of Brüll include: "Im Walde"; "Jagd-Ouverture für Orchester": 3 orchestral serenades; overture to "Macbeth"; a dance-suite for orchestra; 2 pianoforte-concertos; a violin-concerto; a suite and 3 sonatas for piano and violin; a trio; a sonata for violoncello and pianoforte; a sonata for two pianos; songs, part-songs, and pianoforte pieces.
Brüll is one of the ablest and most diligent composers of the present day; he has exercised a most wholesome and fruitful influence upon every department of composition in which he has been active. In his chamber-music he reveals the influence of Schumann and Mendelssohn, but finds in the field of opera a wider scope for his inventive powers. "Das Goldene Kreuz" to-day occupies a position unapproached by any other modern production in the field of popular German opera, not excepting Nessler's "Trompeter von Säkkingen." Brüll is an excellent pianist, and has especially distinguished himself as an interpreter of the compositions of Brahms, with whom he was on terms of intimate friendship.
Bibliography:
Baker, Biographical Dict. of Musicians;
Riemann, Musik-Lexikon;
Hanslick, Die Moderne Oper, 1875.
S.
J.
So.