BUDNY, SIMON:
Calvinist priest of Lithuania in the sixteenth century; founder of the Polish sect of the Budnians, who were surnamed "Half-Jews" ("Semi-Judaizantes"). He studied at the Academy of Cracow, where he became acquainted with some of the disciples of Socinus, Blandrata, and other Unitarians, who, being outlawed by Catholics and Reformers alike, had found shelter in Poland, where they could live and speak freely. Budny was invited by Prince Nicholas Radziwill in 1562 to take the place of pastor in the newly built Calvinist church at Kleck. Here he began his Polish translation of the Bible, which was published in Nieswicz in 1572. He then turned to the Socinians, and was one of their most ardent missionaries in Lithuania.
Budny associated much with Jewish scholars, and was a great friend of the Jews. He was somewhat familiar with the Hebrew language and literature. Hezekiah David Abulafia mentions him in his work "Ben Zeḳuniam" in the following words: "There is another wise man, by the name of Simon Budny, who praises the Talmud very much and considers it to be the best work of all literatures."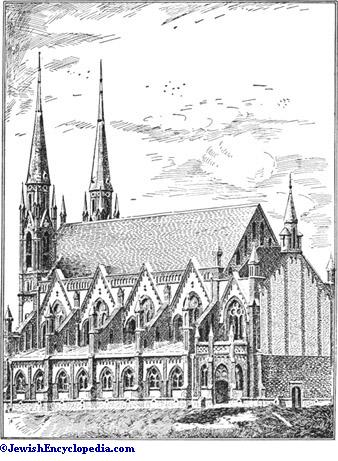 Synagogue at Budweis (Pointed Style).
(After a photograph.)
The exact date of Budny's death is unknown; but he died before Faustus Socinus—according to Grätz in 1584. His works are very rare, the Catholics having collected and burned all that they could obtain.
Bibliography:
Bock, Historia Antitrinitariorum;
Hoefer, Nouvelle Biographie Universelle, vii. 729, Paris, 1853;
Krasinski, Historical Sketch of the Reformation in Poland, ii.;
A. Harkavy, Note in S. P. Rabbinowicz's Hebrew translation of Grätz's Gesch. der Juden, vii. 356, Warsaw, 1899.
H.
R.