COCCEIUS (KOCH), JOHANNES:
German theologian and Hebraist; born at Bremen 1603; died at Leyden Nov. 5, 1669. He was appointed professor of Hebrew at Bremen in 1629, and at Franeker in 1636, where, after 1643, he also held the chair of theology. In 1650 he was appointed professor of theology at Leyden. He was the founder of the school of theology known by his name.
Cocceius wrote commentaries on most of the books of the Old Testament, in which he maintained that sentences and phrases should be interpreted only according to their context.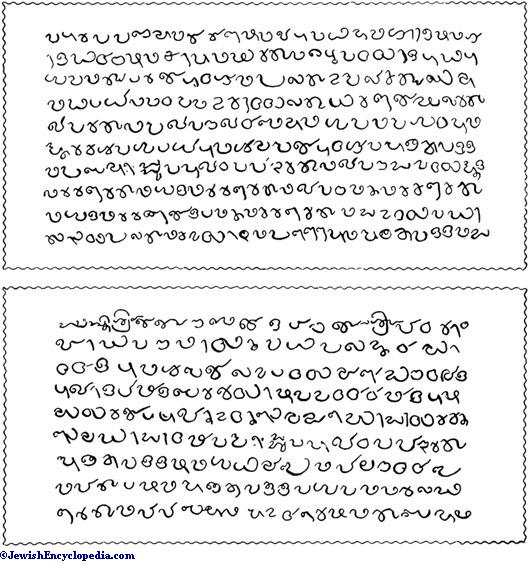 Sasanam of the Jews of Cochin, Granting Privileges to Joseph Rabban, About 750 C.E.
(From "Indian Antiquary.")
He compiled a Hebrew dictionary of the Old Testament, which was published at Leyden in 1669 under the title "Lexicon et Commentarius Sermonis Hebraici et Chaldaici Veteris Testamenti," which to a certain extent marks an epoch in Hebrew lexicography among Christians. Of interest to Judaism are his "Versio Latina Mischnæ cum Excerptis ex Gemara Tractatuum Synhedrin et Makkot," 1629; "Judaicarum Responsionum et Quæstionum Consideratio," with a "Præfatio de Fide Sacrorum Codd. Hebræorum ac Versionis LXII. Interpretumet Oratio de Causis Incredulitatis Judæorum" (Amsterdam, 1662); "Tractatus Makkot Versio Latina" (in Surenhusius, "Versio Latina Mischnæ et Commentationum Maimonidis et Obadjæ)", 1698-1703. All three essays were reprinted in his complete works, which were published in Amsterdam, two years after his death, under the title "Opera Omnia."
Bibliography:
Steinschneider, Cat. Bodl. No. 4757;
Schaff-Herzog, Encyc. s.v.;
Karpeles, Gesch. der Jüdischen Literatur, p. 1034, Berlin, 1886,;
Encyc. Brit. s.v.
J.
F.
T.
H.