GORDON, LORD GEORGE:
English agitator and convert to Judaism; born in London on Dec. 26, 1751; died in 1793; son of the third Duke of Gordon. After serving as midshipman and lieutenant in the navy, he entered Parliament for Inverness in 1774. In 1778 Gordon at the head of a disorderly mob presented a bill for the repeal of the act by which the Catholic disabilities had been removed, and, a riot ensuing, Gordon was sent to the Tower, but was acquitted. In 1784 he came forward as the Protestant champion in the quarrel between the Dutch and the emperor Joseph. Meanwhile he was in correspondence with the English Jews, and made an application to Chief Rabbi Tebele (David) Schiff to be converted to Judaism, which application was refused. He was, however, received into the covenant in Birmingham, through the agency of Rabbi Jacob of that city, but without the sanction of the ecclesiastical authorities. The object of his conversion, it was thought at the time, was partly to gain adherents among the Jews to his financial schemes; and he trusted that they would combine to withhold loans for carrying on war.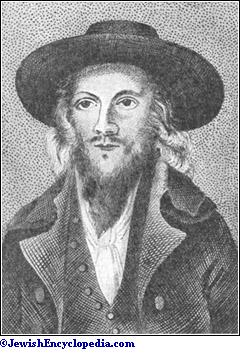 Lord George Gordon After Conversion to Judaism.
(From a drawing by Polack.)
In June, 1787, Gordon was convicted of a libel upon British justice; and, retiring to Birmingham, he lived quietly in the house of a Jew, wearing a long beard and adopting Jewish customs. In 1788 he was sentenced to five years' imprisonment and to pay a fine of £500 and furnish two securities in £2,500 apiece. During his stay in Newgate he conformed strictly in all respects to the Jewish religion, eating kasher meat and wearing phylacteries. On the expiration of the five years he was unable to obtain the necessary securities, and had to stay in Newgate, where he caught the fever that caused his death. Dickens describes Gordon and the "No Popery" riots in "Barnaby Rudge," introducing a reference to his change of religion.
Bibliography:
Trials of Lord G. Gordon, London, 1787;
Jew. Chron. March 10, 1899;
Robert Watson, Life of Lord George Gordon, London, 1795;
Picciotto, Sketches of Anglo-Jewish History;
Dict. National Biography, s.v.
J.
G.
L.