HAMELN (also known as Hamelin):
Prussian town on the Hamel and Weser. Jews are recorded as present in Hameln as early as 1277. About the middle of the following century (1341) a considerable number of Jews lived there. They were admitted by the city council at moderate tax rates for terms of ten, sometimes only six, years; on May 1, 1344, they were permitted to build "ene scole" (synagogue); not long after, at the time of the Black Death, they were expelled. Before 1557, however, they had been readmitted, for in that year Duke Henry the Younger decreed the expulsion of all Jews living on Guelfic territory. On Jan. 6, 1590, his successor, Henry Julius, issued a like decree. The city council of Hameln, like those of Hanover and Göttingen, pleaded for its Jewish inhabitants; and when the Jews of Prague petitioned Emperor Maximilian II. for his intervention, upon the latter's advice the duke repealed the order.
At the end of the seventeenth century only a few Jewish families lived in Hameln: Glückel von Hameln, whose memoirs have made the place famous in Jewish history, mentions two. Until about the middle of the preceding century they had supported themselves by money-lending. Not until the political transformation of Germany after 1848 did their social position improve. At present about fifty Jewish families live in Hameln.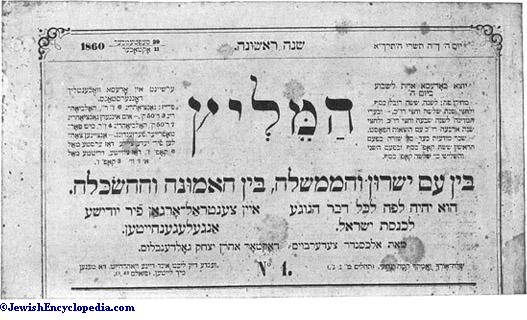 Title-Heading of the First Number of "Ha-Meliẓ."
The only prominent names in the history of the Jewish congregation are those of Joseph Hamelin and Joseph Gershon Spiegelberg. The former, who was the father-in-law of Glückel, is mentioned in some documents under the name of "Jost" or "Jobst Goldschmidt"; in one of these documents the complaint is made that "he is surrounded with such pomp that it can scarcely be told." In 1659 he became the father-in-law of the famous court Jew Liepmann Cohen, or Liffmann Behrens, of Hanover, whose daughter Genendel married David Oppenheim. Joseph Gershon Spiegelberg (1802-44)was the central figure in his community, which still enjoys the fruits of his remarkable activity. He was a veterinary surgeon, who even in that reactionary period was honored with commissions from the royal Hanoverian government; and he was very active in congregational affairs. A benevolent society has existed in Hameln for centuries. The synagogue now in use was designed by the architect Oppler (who built the synagogue at Hanover also); it was dedicated July 2, 1879. The present cemetery has been in use since 1742; of the older cemeteries there is no trace. The following among the rabbis of Hameln should be mentioned: Eliezer Leser Langenzahn (d. 1749); Nathan ben Löb Hamel (d. 1751); Joseph, son of Simeon Levi (d. 1761); Moses Judah Selkeli (d. 1782). Joshua Leszynsky (d. July 9, 1893) was "official of the synagogue" during the fifties and sixties of the last century. He was succeeded by Abraham Rosenbaum (1873-97). Hameln's present population of about 20,000 includes 243 Jews.
Bibliography:
Stobbe, Die Juden in Deutschland, p. 20, Brunswick;
Pufendorf, Observatt, ii. 268;
Sprenger, Gesch. der Stadt Hameln, p. 31, Hanover, 1826;
Wiener, in Jahrbuch des Historischen Vereins für Niedersachsen, 1861, p. 258;
Meinardus, Urkundenbuch des Stiftes und der Stadt Hameln, 1887, Nos. 360, 361, 387;
Kaufmann, Aus Heinrich Heine's Ahnensaal, p. 52, Breslau, 1896;
idem, R. Jaïr Chajim Bacharach, Treves, 1894;
idem, Samson Wertheimer, Vienna, 1888;
Memoiren der Glückel von Hameln, 1896;
Lewinsky, Der Hildesheimer Rabbiner Samuel Hameln, in Kaufmann Gedenkbuch, 1900.
D.
S.
Bac.