HEBRON ():
1. A city of Asher, properly "Ebron"; called also Abdon.
2. Town in Palestine, about 17 miles southwest of Jerusalem; it has a population of 14,000, including 1,100 Jews—690 Sephardim and 410 Ashkenazim. In 1890 there was a Jewish population of 1,490, but it has been diminishing. Most of the Jews still live in a ghetto surrounded by walls, and known in Spanish as "El Cortijo" (the court). It consists of a maze of narrow and dark passages, into which the doorways open at distances of not more than three feet. In ancient times Hebron was knownas "Kirjath-arba," after its reputed founder, Arba, father of the Anakim (Josh. xiv. 15, xxi. 11). But according to modern exegetes the name is equivalent to the "city of the four." The patriarch Abraham resided at Hebron (Gen. xiii. 18, xiv. 13, xviii. 1, xxiii. 2), and purchased a cave known as the "Double Cave," where Sarah was buried. Abraham, Isaac, Jacob, and Leah were afterward buried there (see Burial; Caves in Palestine; Machpelah). Jacob went from Hebron to Egypt (Gen. xxxvii. 14, xlvi. 1); the spies visited the city (Num. xiii. 22). In the time of Joshua, Hoham, King of Hebron, was captured there and put to death by the Israelites. Hebron and its territory were at first given to Caleb (Josh. xiv. 6 et seq., xv. 13; Judges i. 20), and then to the Levites of the family of Kohath; it ultimately became one of the six cities of refuge (Josh. xx. 7). David lived there until the conquest of Jerusalem, and was there anointed as king (II Sam. ii. 1, 11; iii. 2 et seq.; v. 1 et seq.). Absalom's revolt began there (II Sam. xv. 9 et seq.); Rehoboam fortified the city (II Chron. xi. 10).Hebron was one of the towns which possessed a Jewish community after the return from Babylon (Neh. xi. 25), but the Idumeans appear to have afterward acquired it, since they were expelled by Judas Maccabeus (I Macc. v. 65). Occupied by the Romans, it was taken by Simon, son of Gioras, one of the leaders of the insurrection; but the Roman general Cerealis retook it by storm, killed the garrison, and burned the city (Munk, "La Palestine," p. 57). Jews did not inhabit Hebron after the destruction of the Temple, nor under the Romans, Byzantines, Arabs, or Crusaders. Benjamin of Tudela found only a single Jew (1171) at St. Abraham, as Hebron was called by the Crusaders. He asserts, however, that the Church of St. Abraham had been a synagogue under the Turkish rule. Forty years later R. Samuel bar Shimshon, who explored Palestine in 1209, makes no mention of Jews in Hebron.
The Modern Community.
Local tradition attributes the foundation of the modern community to Malkiel Ashkenazi (1450?), in whose honor a service is held every year on the anniversary of his death. (Azulai, "Shem ha-Gedolim," p. 88). Fifty years afterward, however, it was difficult to form a "minyan" (quorum). The following were chief rabbis of Hebron: Israel Ẓebi (1701-31); Abraham Castel (1757); Aaron Alfandari (1772); Mordecai Ruvio (c. 1785); David Melamed (c. 1789); Eliakim (end of 18th cent.); Ḥayyim ha-Levi Polacco (c. 1840); Hai Cohen (1847-52); Moses Pereira (1852-64); Elia Sli-. man Mani(1864-78); Raḥamim Joseph Franco (1878-1901); Hezekiah Medini (former chief rabbi of Karasu-Bazar in the Crimea; known as the "Ḥakam Bashi Wakili"; acting chief rabbi since 1901).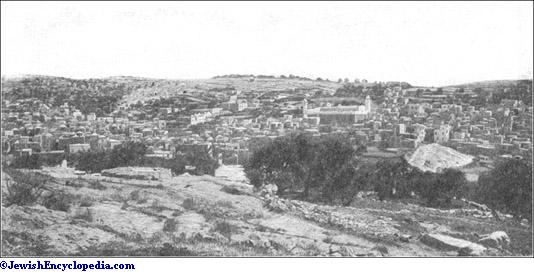 General View of Hebron.
(From a photograph by the American Colony, Jerusalem.)
Hebron possesses four synagogues within the ghetto and four batte ha-midrash without. The oldest synagogue, that of Abraham Abinu, is supposed to date back three centuries. It was restored in 1738 and enlarged in 1864. The others are Keneset Eliyyah Mani (like the former, Sephardic), and two Ashkenazic. There are three yeshibot, the oldest having been founded by Israel Ẓebi (d. 1731); the second was formed by the union of four older yeshibot. It possesses the library of Vivas, a native of Leghorn, and is very rich in Spanish works. Hebron possesses four Talmud Torahs for Sephardim and one for Ashkenazim. There are three mutual-aid societies and a free dispensary. The Sephardic community is administered by the chief rabbi and a council of seven members; the Ashkenazic by the chief rabbi and a council of three. Most of the Jews are supported by the "ḥaluḳḳah," but there are a few carpenters and shoemakers. Among the antiquities are the Double Cave, revered by the Mohammedans; the ruins of Abraham's house; the tombs of Gad, Nathan the prophet, Abner (David's commander-in-chief), and others. The modern name of the town isAl-Khalil (lit. "the friend" [i.e., of God], a name by which Abraham was known; comp. Isa. xli. 8).
Numerous rabbinical authors have lived at Hebron, including Elijah de Vidas (1525), author of "Reshit Ḥokmah"; Solomon Edni (1622), author of "Meleket Shelomoh"; Moses ha-Levi (1668), author of "Yede Mosheh"; Israel Ẓebi (1731), author of "Urim Gedolim"; Abraham Conque (1740), author of "Abaḳ Derakim"; Ḥayyim Abraham Israel Ẓebi (1776), author of "Be'er Mayim Ḥayyim"; Aaron Alfandari (1772), author of "Yad Aharon" and "Merkebet ha-Mishneh"; Mordecai Ruvio (1785), author of "Shemen ha-Mor"; Judah Divan (1792), author of "Zibḥe Shelamim"; Elijah Sliman Mani (d. 1878), author of "Kisse Eliyahu"; Raḥamim Joseph Franco (d. 1901), author of "Sha'are Raḥamim"; Hezekiah Medini, author of "Sedeh Ḥemed."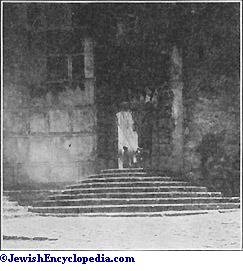 Entrance to the Mosque at Hebron, Containing the Traditional Cave of Machpelah.
(From a photograph by the American Colony, Jerusalem.)
Bibliography:
Azulai, Shem ha-Gedolim;
Hazan, Ha-Ma'alot li-Shelomoh, Alexandria, 1889;
S. Munk, La Palestine, Paris;
Benjamin II., Acht Jahre in Asien und Afrika;
Abraham Ḥayyim Penso, Minḥat Ḳena'ot, Jerusalem, 1879;
Luncz, Jerusalem, 1895-1901.
D.
M.
Fr.
3. Third son of Kohath, son of Levi and founder of the Levitic family, the Hebronites (Ex. vi. 18; Num. iii. 19, 27; xxvi. 58). The Hebronites are often mentioned in the enumerations of the Levites, under the name either of "Ha-Ḥebroni" (Num. iii. 27, xxvi. 58; I Chron. xxvi. 23, 30, 31) or of "Bene-Ḥebron" (I Chron. xv. 9, xxiii. 19). In the time of David the chief of the Hebronites was called Jeriah (I Chron. xxiii. 19, and elsewhere). In the fortieth year of David's reign the Hebronites were settled at Jazer in Gilead, of whom 2,700 mighty men were appointed by the king superintendents over the two and one-half tribes, and 1,700, under Hashahiah, held similar positions on the west of the Jordan (ib. xxvi. 30, 31).
4. One of the tribe of Judah, a descendant of Caleb (ib. ii. 42, 43).
E.
G.
H.
M.
Sel.