AGRIPPA, CAIUS JULIUS:
Mentioned as propretor of the Roman province of Asia in an inscription at Ephesus; was probably a descendant of the royal house of Herod. His father, referred to in the inscription in question as King Alexander, was doubtless the Alexander appointed by Vespasian as "king of an island in Cilicia" (Josephus, "Ant." xviii. 5, § 4) and would thus be great-grandson of Alexander, son of Herod the Great, by Mariamne (see genealogical abstract below). His descendants soon lost all connection with Judaism and disappeared in heathendom (Josephus, ibid. 141).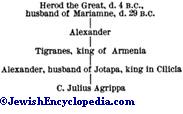 Bibliography:
Greek Inscriptions in the British Museum, iii. 187, 537;
Prosopographia Imperii Romani, ed. H. Dessau, ii. 162, 87;
Schürer, Gesch. i. 2, part 468;
Mommsen, in Hermes, 1870, iv. 190.
M.
Br.