KEYSER, EPHRAIM:
American sculptor; born at Baltimore, Md., Oct. 6, 1850; educated at the City College of Baltimore and at the art academies of Munich (where he won a silver medal for a bronze statue of a page) and Berlin. In 1880 he settled in Rome, Italy, where he maintained a studio for six years and where he received a prize for a statue of Psyche. In 1887 he returned to the United States, and lived in New York until 1893. Since then he has resided in Baltimore, where he is now (1904) instructor in modeling at the School of Fine Arts. Among his works may be mentioned: the statue of General de Kalb, erected by the government at Annapolis, Md.; the design for the tomb of Chester A. Arthur, President of the United States, at Albany, New York; and various busts, among them those of Cardinal Gibbons, Sidney Lanier, and Henry Harland.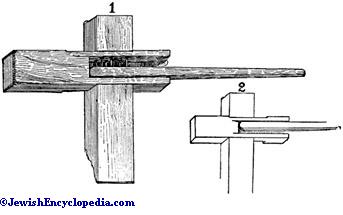 Bolt and Key Used in Modern Syria. 1. Locked. 2. Unlocked.
Bibliography:
Appleton, Cyclo. of American Biography.
A.
F.
T.
H.