LEVIN, HIRSCHEL BEN ARYEH LÖB (called also Hirschel Löbel and Hart Lyon):
(Redirected from LEVIN, ẒEBI HIRSCH.)
German rabbi; born at Rzeszow, Galicia, in 1721; died at Berlin Aug. 26, 1800. His father (known also as Saul Levin) was rabbi at Amsterdam; and on his mother's side Hirschel was a nephew of JacobEmden. Although he occupied himself also with secular sciences and philosophy, Levin paid special attention to Hebrew grammar and literature, and composed several Hebrew poems. Levin was a distinguished Talmudist, and in 1751, when he was only thirty years old, he threw himself into the struggle between Emden and Eybeschütz, naturally siding with the former. His epistles against Eybeschütz made such an impression that in 1756 he was elected chief rabbi of the London congregation of German and Polish Jews. In 1760 Jacob Ḳimḥi having published at Altona a responsum in which he charged the London butchers ("shoḥeṭim") with negligence in regard to their duties, Levin warmly defended them. The wardens of his synagogue, however, refused him permission to make a public reply to Ḳimḥi's charges; he therefore resigned in 1763, and accepted the rabbinate of Halberstadt. It would appear, from the letter in which the community of Halberstadt offered him the rabbinate, that Levin's resignation was occasioned by the neglect of Biblical and Talmudic studies by the Jews of London. He afterward became rabbi of Mannheim; and in 1772 he was appointed chief rabbi of Berlin. He was a great friend of Mendelssohn.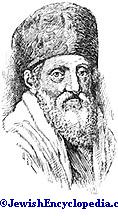 Hirschel Levin.
In 1778 Levin gave his approbation to Mendelssohn's German translation of the Pentateuch. In the preceding year the Prussian government had ordered Levin to make a résumé in German of the Jewish civil laws, such as those on inheritance, guardianship, and marriage, and to present it to the royal department of justice. Levin, not having a thorough knowledge of the German language, applied to Mendelssohn to do the work. Mendelssohn, accordingly, wrote his "Ritualgesetze der Juden," printed under Levin's superintendence, 1778.
Despite his toleration and enlightenment, Levin, instigated by the rabbis of Glogau and Lissa, began in 1782 to persecute Naphtali Herz Wessely for his "Dibre Shalom we-Emet" (Landshuth, "Toledot Anshe ha-Shem," p. 85; Kayserling, "Mendelssohn," p. 307). He prohibited the printing of that work, and insisted upon the expulsion of the author from Berlin. But Wessely's friends prevailed on Levin to desist from attacking Wessely, while Mendelssohn at the same time gave Levin to understand that the press in Germany was free to everybody.
Levin wrote: Epistles against Eybeschütz, printed by one of Emden's pupils, in the "Sefat Emet u-Leshon Zehorit," Altona, 1752; glosses on Pirḳe Abot, printed with Emden's commentary to Pirḳe Abot, Berlin, 1834; notes to the "Sefer Yuḥasin" and "Sefer ha-Ḥinnuk," some of which were published in Kobak's "Jeschurun." Some of his poetry was published in "Ha-Maggid" (xiv.) under the title "Naḥalat Ẓebi." Finally, three manuscript volumes of his responsa are to be found in the library of the London Bet ha-Midrash, bearing the numbers 24 to 26.
Bibliography:
Grätz, Gesch. 2d ed., xi. 41, 89, 151;
H. Adler, in Publ. Anglo-Jew. Hist. Exhibition, 1887, pp. 280 et seq.;
Landshuth, Toledot Anshe ha-Shem, pp. 72-78;
Kayserling, Moses Mendelssohn, pp. 282, 291, 311;
Auerbach, Gesch. der Israelitischen Gemeinde Halberstadt, pp. 89 et seq., Halberstadt, 1866;
Fuenn, Keneset Yisrael, p. 284.
S.
S.
M.
Sel.