RIETI:
Italian family, deriving its name from the city of Rieti in the Pontifical States. Members of it are found at Rieti as early as the end of the fourteenth century; then in Rome, Sienna, Bologna, Mantua, and many other Italian cities. The oldest members known are Isaac Rieti or Maestro Gaio. father of Moses Rieti, and Abraham ben Isaac Rieti (1415; Magazin, i. 37). Michael ben Judah di Rieti, a physician, lived at Terni between 1469 and 1473, and Solomon ben Moses di Rieti, another physician, at Rome in 1510. Still another physician, a member of this family, Asahel Raphael Rieti, a grandson of Moses, is known to have lived in Bologna in 1556, with his three sons, Elia, Isaac, and Hananiah Eliakim Rieti. Ishmael Rieti, a relative of Jehiel of Pisa, resided in Sienna, where he extended hospitality to the false Messiah, David Reubeni, although without displaying the singular enthusiasm shown in his cause by all the other members of Jehiel's family. He refused Reubeni any considerable financial assistance, and on this account was bitterly censured in the latter's diary. He, however, was teacher of the nephews of Immanuel ben Isaac de Lattes, who held him in great veneration. At Sienna Ishmael was the host also of Johanan ben Joseph Treves. He devoted himself to works of piety, in which he was followed by his son Moses Rieti. On the occasion of a movement inimical to the Jews of Empoli, Tuscany, when the monks in their sermons forbade the Christians to have any intercourse with the Jews or to render them any service on their Sabbath, Moses ben Ishmael provided the necessary funds to send a delegate to Rome to obtain a papal decree in favor of his Empoli coreligionists.
Rabbi Simon da Rieti of Rome was one of the Hebrew deputies who attended one of the meetings of the Index Commission convened by Cardinal Della Rovere, Aug. 7, l590, when the censorship of the Talmud was discussed. In the beginning of the seventeenth century Joseph ben Shabbethai Elhanan Rieti, a nephew of Ishmael, was rabbi of Sienna. He is known as the copyist of a manuscript in 1603, and as one of the indorsers of a decision of the Roman rabbi Eliezer Mazliaḥ ben Abraham di Viterbo (1605-6). Eliezer ben Isaac Rieti is known as the author of two works, "Luaḥ Mamare 'En Yisrael" (Venice, 1612; Amsterdam, 1684). an alphabetical index to the "'En Yisrael" of Jacob Ḥabib, and "Kelale ha-Talmud," which remains unpublished (MS. Michael). His contemporary Hezekiah ben Gabriel ben Samuel Rieti published in the "Tuscan" (Italian) language a translation of Proverbs, with a Hebrew text, and a dedicatory letter addressed to Isaiah Massarani; it bears the title of "Mishle Shelomoh 'im Ha'aṭaḳat Iṭalḳit" (Venice, 1617). A certain Isaac ben Moses Rietiis mentioned in the "Luaḥ ha-Payyeṭanim" by S. D. Luzzatto.
Herewith is given the genealogical tree of those members of the Rieti family whose relationship may be traced according to Vogelstein and Rieger, "Gesch. der Juden in Rom," ii. 74: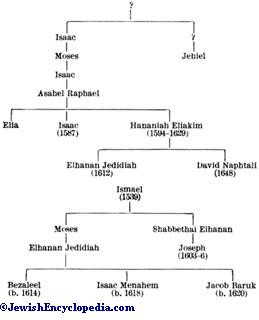 Bibliography:
Isaac de Lattes, Responsa, p. 123;
Kaufmann, in R. E. J. xxvi. 90-91;
Mortara, Catalogo, p. 43;
idem, Indice, p. 54;
idem, in Steinschneider, Hebr. Bibl. v. 98;
Mosè, v. 231;
Nepi-Ghirondi, Toledot Gedole Yisrael, p. 46;
Mashbit Milḥamot, p. 92a, Venice, 1606;
Steinschneider, Cat. Bodl. cols. 963-964;
idem, Jewish Literature, pp. 219-223;
idem, Hebr. Bibl. v. 21, xix. 14;
Vogelstein and Rieger, Gesch. der Juden in Rom, ii. 70 (note 2), 74, 135, 136, 180, 264.
Hananiah Eliakim Rieti:
Italian rabbi; born at Bologna about 1560; died in Mantua before 1626. He lived some time in Mantua, and in 1604 settled at Luzzara. He wrote "Meḳiẓ Redumim" (Mantua, 1648), religious songs and poems, especially for the morning of Hosha'ana Rabbah, which were published by his son David Naphtali Rieti, with a preface by the author, and "Minḥat Ḥananyah," poems for all feast- and fast-days (MS. Michael, now in Oxford). Some of these poems were printed in the "Ayyelet ha-Shaḥar" of Mordecai Jare (Mantua, 1612). Other, unpublished writings of Rieti are: novellæ to some Talmudical treatises; "Sedeh Lebanon," responsa; "Sedeh Tappuḥim," miscellaneous writings; "Tefillah Ḳeẓarah," a short prayer.
Bibliography:
Landshuth, 'Ammude ha-'Abodah, p. 65;
Steinschneider, Jewish Literature, pp. 242 et seq.;
Vogelstein and Rieger, Gesch. der Juden in Rom, ii. 74;
Zunz, Z.G., p. 423.
Moses ben Isaac (Maestro Gaio) da Rieti:
Italian rabbi, physician, and poet; born at Rieti in July, 1388. He lost his father at an early age, and later left his native place, residing successively in different cities of the Pontifical States. In 1436 he was in Perugia. Some time afterward he founded a school at Narni. During the pontificate of Eugenius IV. he removed to Rome, and was appointed chief rabbi of the Jewish community of that city. Pius II. gave him leave to practise medicine even among Christians, and appointed him his body-physician. Rieti successfully maintained a religious controversy in Rome with a Christian theologian who has been identified with both Roberto of Lecce and the Florentine Grannozzo Manetti. He is believed to have died at Rome some time after 1460. He certainly outlived his wife, who died at the age of seventy and to whom he had been married fifty-two years.
From his youth Rieti devoted himself to the study of the Talmud and of Hebrew literature in general. He was also an earnest student of medicine, natural science, and philosophy, and a connoisseur of Italian literature. The fame acquired by Dante through the "Divina Commedia" led Rieti to enrich Hebrew literature with a similar work. He conceived the idea of so doing as early as 1409; but it was not until seven years later that he began the work, to which he gave the title "Miḳdash Me'aṭ" (see Ezek. xi. 16), and which was in two parts. Part i., entitled "Ulam," is divided into five cantos, the first of which begins with an invocation to the Almighty and unfolds the plan, contents, and divisions of the work. The remainder of this part of the work is devoted to an exposition of the religious and philosophical opinions of the author, and treats of the thirteen articles of faith, of Cabala, physics, and mathematics, the written and the oral law, the individual branches of science and of their scope and usefulness, also of Aristotle and his writings, of the "Isagoge" of Porphyry, and, finally, of the "Categories" of Aristotle.
In the second part of the "Miḳdash" the author describes a symbolical journey through the realm of blessed spirits. Passing through the celestial synagogue, he arrives at the temple of prayer, and thence reaches the city of God, symbolizing the Scriptures, and the ships of the soul, the Mishnah and Talmud. He passes in review the teachers of the Talmud, the Geonim, and the later great luminaries of Hebrew learning. To this last part Rieti appends numerous historical and literary notes, which often have scientific value.
Rieti endeavors in this work to give a résumé of science and philosophy, of Judaism and all its literary history; but, lacking sufficient power and lofty inspiration, his production has little artistic merit. He frequently discusses dry and heavy points of doctrine, or loses himself in useless puerility. He seldom rises to the truly artistic conception of his design, or expresses it in a manner which can merit the term poetic. What he lacks in inspiration however, is partly compensated by his enthusiasm and love for the subject which he treats. This, together with the beauty and grace of his diction and the flowing harmony of the hendecasyllabic verse in which it is written, combined with the merit of having introduced Dante's terza-rima to replace the long and tedious single rime of Hebrew-Spanish poetry, secures to Rieti's work a permanent position in Hebrew literature.
"Miḳdash Me'aṭ" is incomplete; but it seems that only a small part of it is missing. The work exists in a large number of manuscripts, the first complete edition of which was that by Jacob Goldenthal of Vienna (1851), printed at the expense of the ViennaAcademy of Science. At first only a part was published (part ii., canto ii., "Me'on ha-Sho'alim," which has been introduced into the liturgy). Of this part the following Italian translations exist: (1) by Eliezer Maẓliaḥ b. Abraham Cohen, Venice, c. 1585; (2) by Deborah Ascarelli, ib. 1601; (3) by Samuel di Castelnuovo, ib. 1609; (4 and 5) in Oxford MSS. 1988a and 2578, 10. There is also one Italian translation of the "Ulam" in the Munich MS. 556.
Rieti was the author also of: "Iggeret Ya'ar Lebanon, "a religio-philosophical reflection, in the antique form of the "meliẓah," on the importance of the ornamentation and furnishings of the Temple. This work may have been written prior to the "Miḳdash Me'aṭ"; indeed, if one excepts an elegy on the death of his wife, it is safe to state that in the second half of his life he abandoned poetry and devoted himself entirely to philosophy and apologetics. In these fields he produced the following works: (1) notes to the commentary of Averroes (Ibn Roshd) on the "Isagoge ad Logicam" by Porphyry, translated by Anatoli; (2) commentary on the "Aphorisms" of Hippocrates; (3) marginal notes to the commentary of Moses Narboni on the "Kawwanot ha-Filusufim" of Al-Ghazali; (4) philosophical and physical aphorisms; (5) answers to questions pertaining to logic; (6) a religio-philosophical work, written in Italian with Hebrew characters, and partially preserved in a Leyden manuscript (Scaliger MS. 10, 1); of an apologetic tendency, it was perhaps written after the controversy which Rieti had sustained in Rome, and is in three parts: (1) popular exposition of natural philosophy, according to Arisṭotle; (2) of God, and how the human soul places itself at His disposition; (3) history of the Jews till the writer's own time.
Bibliography:
Berliner, Gesch. der Juden in Rom, ii. part i., 121;
Carmoly, in Orient, 1841, p. 235;
idem, in Jost's Annalen, i. 55, 63;
Del Balzo, Poesie di Mille Autori Intorno a Dante, iii. 413-424;
Delitzsch, Zur Gesch. der Jüdischen Poesie. pp. 55, 145;
Dukes, in Kobak's Jeschurun, ii. 59.
Gedaliah ibn Yaḥya, Shalshelet ha-Ḳabbalah, p. 49a;
Goldenthal, Die Neuerworbenen, Handschriftlichen Hebräischen Werke, pp. 37-46, Vienna, 1851;
idem, Il Dante Ebreo, Vienna, 1851;
Grätz, Gesch. 2d ed., viii. 143 et seq.;
Lasinio, in Etruria, 1852, pp. 65 et seq.:
Karpeles, Gesch. der Jüdischen Literatur, pp. 745 et seq.;
Reggio, in Bikkure ha-'Ittim, ix. 14;
Steinschneider, Jewish Literature, p. 349;
idem, in Buonarotti, 1876, pp. 117 et seq.;
idem, in Virchow's Archiv, xl. 95 et seq.;
Vogelstein and Rieger, Gesch, der Juden in Rom, ii. 12, 16, 68 et seq., 264-265;
Zunz, Literaturgesch. pp. 524 et seq.;
idem, in Geiger's Zeitschrift, ii. 321 et seq.
S.
U.
C.